Far Cry: New Dawn - Twice as Evil (Live Action Trailer)
Rediscover Hope County, Montana next week when Far Cry: New Dawn launches on February 14th. Learn more about the Highwaymen and their leaders "The Twins" in this brand new live-action trailer while you wait for the release. Mickey and Lou are set to cause plenty of mayhem in their wake, can anyone stop them? You'll have to build a resistance and fight against them in a world changed by the nuclear catastrophe that took place 17 years prior.
Far Cry: New Dawn Features
FIGHT FOR SURVIVAL IN A POST-APOCALYPTIC WORLD
Take up arms on your own or with a friend in two player co-op in an unpredictable and transformed world
COLLIDE AGAINST TWO ALL NEW VILLAINS
Recruit an eclectic cast of Guns and Fangs for Hire and form alliances to fight by your side against the Highwaymen's unruly leaders The Twins.
BUILD UP YOUR HOMEBASE AND THE SURVIVORS
Recruit Specialists to upgrade your homebase, who will help unlock all new features including crafting weapons, gear and more.
BATTLE FOR RESOURCES IN HOPE COUNTY AND BEYOND
Engage the Highwaymen in Turf Wars and venture on Expeditions to memorable locations across the USA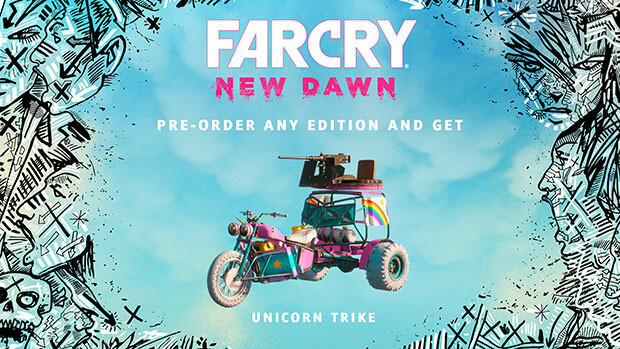 Far Cry: New Dawn launches next week on February 14th. Pre-order the game today to save and get bonuses!