Description of RAGE 2 - Deluxe Edition
Buy RAGE 2 - Deluxe Edition as a Bethesda.net Key.
Add some luxury to your tour of the wasteland! Pre-order the RAGE 2 Deluxe Edition for a copy of the game alongside some badass bonuses. Gain access to Rise of the Ghosts, a thrilling campaign expansion. Get your hands on the BFG, DOOM's super weapon, which is guaranteed to eviscerate everything in your way. After you clear the map, peel out in the Mutant Monster Truck and enter exclusive cheat codes for bonus mayhem. And that's not all, see the full list of included content below!
Digital Content Includes: Rise of the Ghosts Expansion, Doom BFG, Mutant Monster Truck Skin, Nicholas Raine Armor, Settler Pistol, Cult of the Death God Mission, Wasteland Wizard Cheat Codes, Progress Booster, and Battle Standard.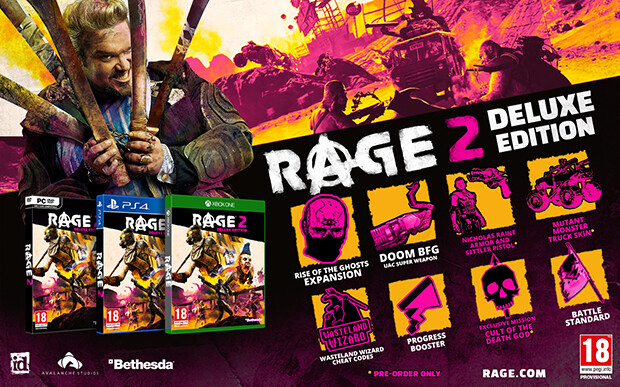 ---
Dive headfirst into a dystopian world devoid of society, law, and order. RAGE 2 brings together two studio powerhouses – Avalanche Studios, masters of open world insanity, and id Software, creators of the first-person shooter – to deliver a carnival of carnage where you can go anywhere, shoot anything, and explode everything.
Story:
An asteroid has annihilated 80% of the earth's population, and humanity's numbers are dwindling. Ruthless and bloodthirsty gangs roam the open roads and the tyrannical Authority seek to rule with an iron fist. As Walker, the last Ranger of the wasteland and a threat to their power, you have been robbed of your home and left for dead. Now you'll have to rage for justice and freedom. With ludicrous vehicle combat, super-powered first-person mayhem, and an open world full of emergent madness, you will tear across an unforgiving wasteland battling sadistic gangs to find the tools and tech needed to crush the oppressive rule of The Authority once and for all.
Key Features:
WELCOME TO THE SHOOTERVERSE
id Software's shooter pedigree and Avalanche Studios' open world prowess is dream-team-made-real for RAGE 2. It's more than a shooter, more than an open world game – it's a shooterverse.
THE WASTELAND AWAITS
Seamlessly traverse a vast and varied landscape, from lush jungles and treacherous swamps to sun-scorched deserts in your pursuit of The Authority. The wasteland is massive, and you've got the arsenal to fight for every inch.
PEDAL TO THE METAL
From monster trucks to gyrocopters, use an assortment of rugged and wasteland-ready vehicles to speed across the badlands. If you see it, you can drive it.
THE LAST RANGER
Bring the pain using a collection of upgradable weapons, devastating Nanotrite powers, and Overdrive, the ability to push your guns beyond their mechanical limits.
FACTIONS & FOES
Fight against ferocious factions for control of the wasteland, each featuring a rogue's gallery of madmen, mutants, and monsters hungry for blood.