Description of The Crew Season Pass
Buy The Crew Season Pass for Ubisoft Connect at Gamesplanet.com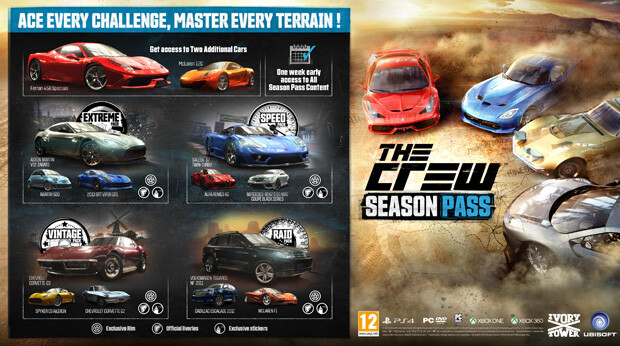 The Crew™ Season Pass provides players with access to add-on content including two exclusive cars at launch December 2, 2014. Players will also receive early access to each of the four car packs one week in advance, including new stickers and tuning kits.
Want an all-in-one bundle? The Crew Gold Edition offers all of the great content included in the full game and access to exciting future content included with the Season Pass.
The first of four themed car packs, new missions, new stickers, and tuning kits will start rolling out to players in January 2015, with new PvP modes to follow shortly thereafter.
Features
The Crew Season Pass includes:
Two exclusive cars – McLaren 12C and Ferrari 458 Speciale, available to Season Pass holders at launch.
One-week early access to all add-on car packs.
Four packs, 12 cars total:

Extreme Car Pack available January 2015, including performance cars perfect for exhilarating high-octane missions.
Speed Car Pack available February 2015, including sports cars finely tuned for speed racing.
Vintage Car Pack available March 2015, including vintage rides fashionable for missions set in iconic American locales.
Raid Car Pack available April 2015, including off-road vehicles recommended for missions on various types of terrain.

Official paint jobs and rims for each car.
Exclusive stickers delivered with each pack.
With the release of each add-on content pack included with the Season Pass, there will be new missions corresponding with each pack's theme available to all players free of charge. New customization options, paint jobs, rims, interiors, and tuning specs will also be available from the in-game store.