October 27, 2021 – CraigB

GP Team
Age of Empires 4: Everything you need to know!
First the remaster versions of Age of Empires 1-3, now a completely new entry in the series: Age of Empires 4 ignites the retro feeling, but also makes the leap into the present. Find out what you can expect from the sequel here.
What is Age of Empires 4?
In October 1997, the beacons were lit for the groundbreaking strategy game series. Hardly any other real-time strategy game (RTS, Real Time Strategy) has been as celebrated as Age of Empires. Well, we also had Command & Conquer (1995). But if you didn't want to roll tanks, and instead take on the medieval-like setting, then Age of Empires was perfect for you. Raise ancient buildings from the ground, initiate mass battles, collect fruit. Stick opponents on a spit, i.e. on a spear - also very tasty.
With Age of Empires 4, developer Relic Entertainment doesn't dare to experiment much. Why should they? The formula for this RTS series has been established, it works. If it's not broke, why change? You still mostly start small on the maps, choose from different factions such as the Mongols, the English or the Holy Roman Empire, collect resources, build and develop new buildings, invest in units. You send them off to collect resources and build buildings or send them to war against other factions. Once again, it's all about big conquests, as is typical of the genre - and now Age of Empires 4 will conquer the hearts of RTS fans. With an old formula in a contemporary guise.
Eight nations are under your command in Age of Empires 4. Each faction pushes an individual style of play, as each nation relies on its own developments and priorities for its units. Some are better with the bow, others specialise in naval battles or mounted fighters. These differences, the complex research and development trees, are what make strategy games like Age of Empires so appealing. The replay value is enormous and once you have played through the four campaigns with more than 30 missions, the multiplayer mode on 17 maps beckons.
Beginners will find their way around Age of Empires 4 right away. The complexity of the game unfolds step by step. Boredom? Not a chance. AoE4 continues to develop over the course of the campaign, as new units and buildings open up new approaches. There is no steep learning curve that could overwhelm players. And yet Age of Empires 4 offers more than enough possibilities for demanding strategists.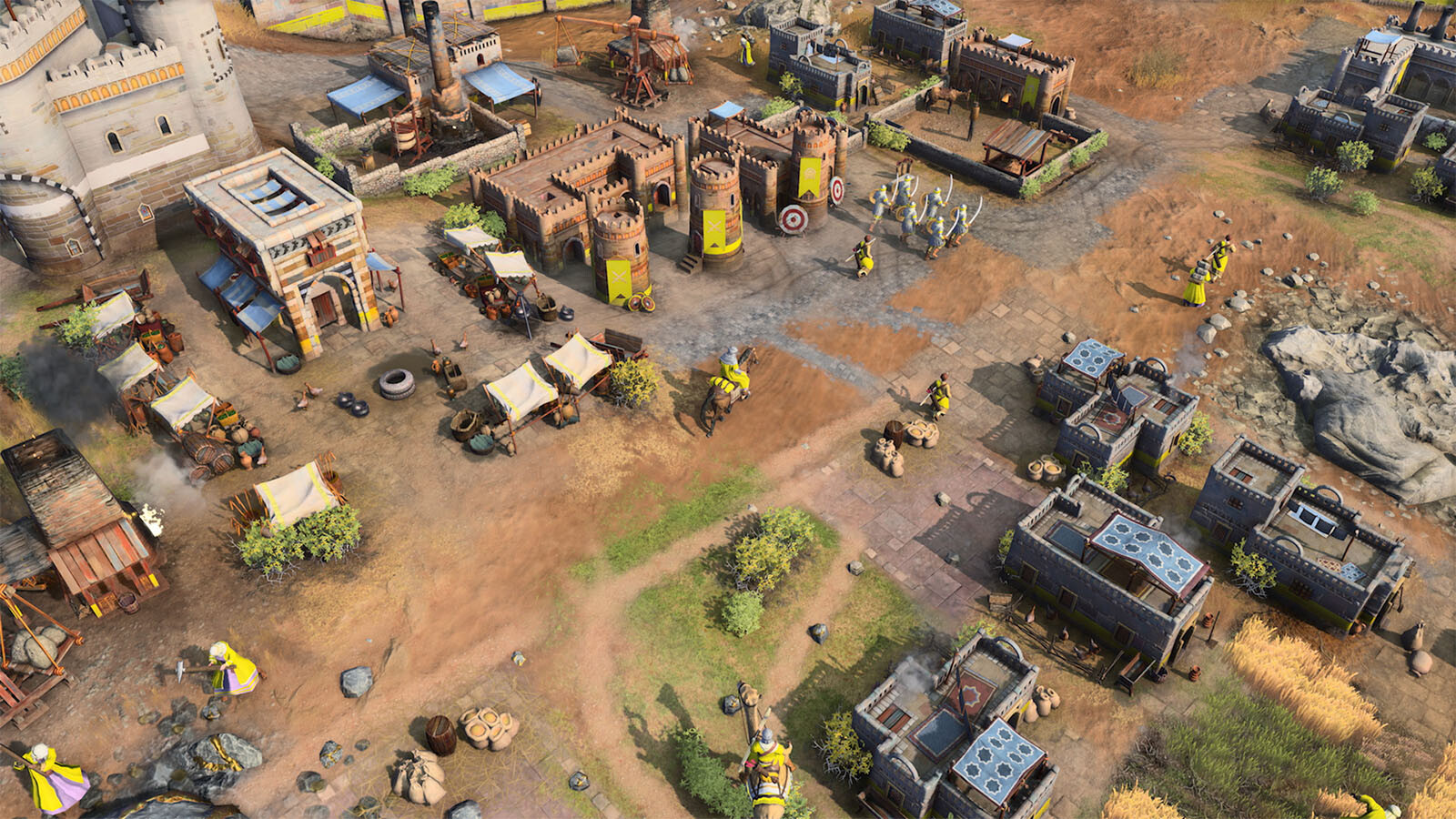 How is Age of Empires doing with the critics?
Need a second opinion before you dump money on the game? Luckily reviews for the latest entry in the popular RTS series have been widely positive. IGN scores the game an impressive 8/10, stating the game sticks close to what's come before while giving a taste of something fresh at times. PCGamer score the game 77/100, noting it's "A worthy new entry in the legendary series that's equal parts progressive and dated". Rounding out some of the scores is GamesRadar+ with a perfect 5/5 stars: "A triumphant return for the strategy series, and well worth the wait."
Age of Empires 4 launch date
AoE 4 launches tomorrow (October 28th 2021) on Steam. Prepare for battle and take a look at the important times you need to know:
Preload launch: Available Now.
Start of Age of Empires 4: 8am PDT / 4pm BST / 5pm CEST
Gamesplanet is already delivering the Steam keys for Age of Empires 4. That means: Get started with the preload!
Age of Empires 4 - the best trailers
How does it look and play, the new Age of Empires? We've put together a big playlist of Age of Empires 4 trailers worth watching. Pop some popcorn on the table and let's go!
Age of Empires 4 PC System Requirements
Is your PC well prepared for the battles that await? Will your system manage to render the epic battles in Age of Empires 4 smoothly? Good news: Compared to many other strategy games, Age of Empires 4 is not a glutton for resources. Here are the official minimum and recommended system requirements for Age of Empires 4.
Minimum requirements
requires 64-bit processor and operating system
Operating system: Windows 10 64bit | Windows 11 64bit
Processor: Intel Core i5-6300U or AMD Ryzen 5 2400G | CPU with AVX support
Memory: 8 GB RAM
Graphics: Intel HD 520 or AMD Radeon RX Vega 11
DirectX: Version 12
Memory: 50 GB available memory
**Recommended PC configuration
requires 64-bit processor and operating system
Operating system: Windows 10 64bit | Windows 11 64bit
Processor: 3.6 GHz 6-core (Intel i5) or AMD Ryzen 5 1600 | CPU with AVX support
Memory: 16 GB RAM
Graphics: Nvidia GeForce 970 GPU or AMD Radeon RX 570 GPU with 4GB of VRAM
DirectX: Version 12
Disk space: 50 GB of available disk space
Additional Notes: 4GB of video RAM and 16GB of system RAM
Age of Empires 4: Edition Comparison
Age of Empires IV PC
Standard Edition
Deluxe Edition
Main Game (Steam Key)
DLC "Dawn of the Dukes" for Age of Empires II : Definitive Edition
Pre-order
Pre-order
- Digital Soundtrack of Age of Empires IV
- Unit Counter Chart
- Craig Mullins Art Compilation
- Coat Of Arms
- Player Profile Potrait
- Monument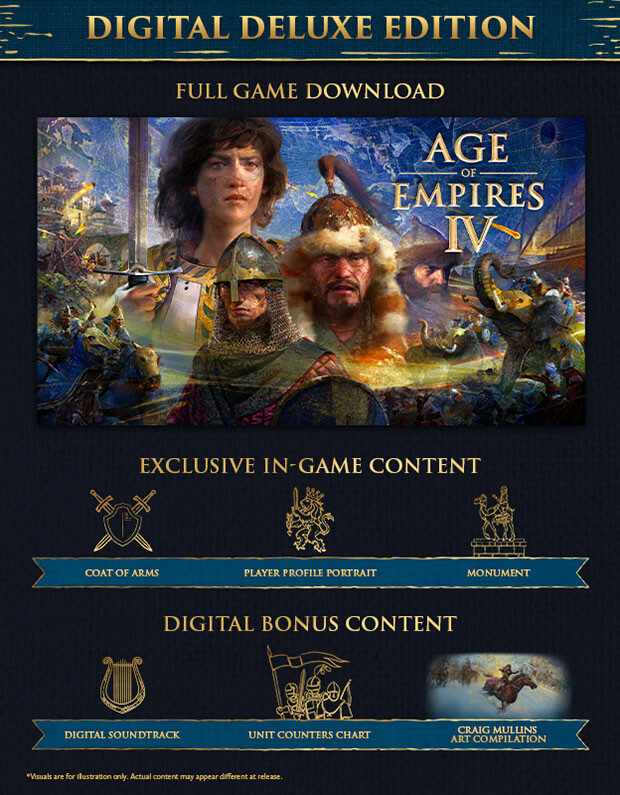 Bonuses for pre-orderers
Pre-order your Age of Empires 4 Steam key on Gamesplanet before release and receive the Age of Empires II: Definitive Edition "Dawn of the Dukes" expansion as a free bonus following purchase*.
*The expansion bonus requires the full version of Age of Empires II: Definitive Edition, sold separately.
Problems with Age of Empires 4?
We want our customers to have as smooth a gaming experience as possible. It's annoying when seemingly insurmountable problems occur right after release. If you need help, either write us an email (with order number) to [email protected] or share your experiences with us and other players in our First Aid Kit for Age of Empires 4 on PC in the comments.