April 12, 2022 – sebbla

GP Team
Play Anno 1800 for free for a week from April 12th to 19th
With the launch of Season 4 Pass, Ubisoft invites you to play the game Anno 1800 for free during the Free Week from April 12th to 19th.
For all those interested in Anno 1800, this is a good time to sweeten even more the already sweet Easter days.
If you decide to buy the game, save with us discounts and visit our promo page.
Anno 1800 itself offers content for countless hours of play. The Season Passes expand the base game with much more content. The Season 4 Pass starts this year and will add three more DLCs to the game. With "SEEDS OF CHANGE" the first DLC from the Season 4 Pass will be released today on April 12th. The other two DLCs from the Season 4 Pass will be released in the course of the year (summer and end of 2022) and will be announced a few weeks in advance.
The Season 4 Pass includes the following three DLCs: Revolutionize the agricultural sector (SEEDS OF CHANGE), Elevate logistics and warfare to new heights (EMPIRE OF THE SKIES) and the industrial and economic boom of the New World (NEW WORLD RISING). Each DLC come with at least one scenario that introduces new challenges and gameplay experience.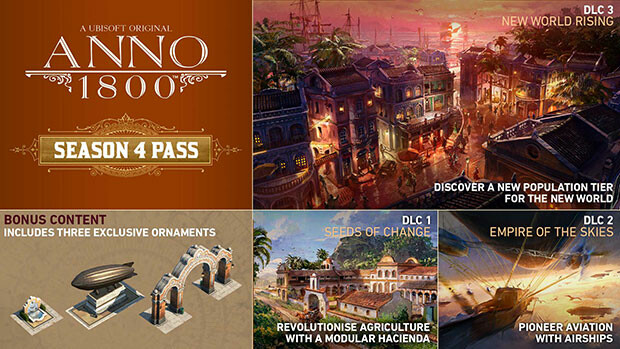 How to play Anno 1800 for free
All you need to participate is an Ubisoft account, the Ubisoft Connect client and to download the game. On the page you find more information about the Free Week! Click on it, register and start playing!
Preload start: Available Now!
Start of free play period: April 12th, 2022, 9 am (PDT) / 5 pm (BST)
End of the free play period: April 19th, 2022, 9 am (PDT) / 5 pm (BST)
Anno 1800: Special offers on Gamesplanet from April 12th to 19th
The announced discounts for the editions are part of our current Anno 1800 Free Weekend Promo
| Anno 1800 Deals | % Off | US ($) | UK (£) | Activation |
| --- | --- | --- | --- | --- |
| Anno 1800 | 70% | $17.99 | £14.99 | Ubisoft Connect |
| Anno 1800 - Gold Edition Year 4 | 45% | $43.99 | £36.99 | Ubisoft Connect |
| Anno 1800 - Complete Edition Year 4 | 44% | $66.99 | £55.99 | Ubisoft Connect |
| Anno 1800 - Season 1 Pass | 54% | $11.50 | £9.66 | Ubisoft Connect |
| Anno 1800 - Season 2 Pass | 54% | $11.50 | £9.66 | Ubisoft Connect |
| Anno 1800 - Season 3 Pass | 40% | $11.99 | £9.99 | Ubisoft Connect |