When can you play Borderlands 3 on PC? Launch times revealed!
Travel the stars next week when Borderlands 3 launches on September 13th. Find out when you can play the upcoming looter shooter sequel on PC with the launch times.
We're getting even closer to the looter shooter sequel as Borderlands 3 is only 10 days away and will be launching on September 10th. In a new reveal today by publisher 2k Games and developer Gearbox, we finally know exactly when we'll be able to jump into the Borderlands for ourselves. Those looking to get their hands on the action packed RPG shooter sequel will not have long to wait as it'll be available on PC from September 12th (for the US) or Midnight UK time for those in Europe.
Borderlands 3 PC Launch Times
Preload: - TBC (at least 48hrs before release)
Launch Time (EU): - 12:00 am BST / 1am CEST on September 13th.
Launch Time (US): - 16:00 PDT on September 12th
In a twist, despite previously mentioning that Borderlands 3 would not be able to have a preload on the Epic Games Store, this now appears to be possible as the game is scheduled to have a preload at least 48hrs ahead of the PC release (time still to be confirmed). This is great news for those who were expecting to have to download the full game at launch as it'll require players to have at least 75gigs of HDD space in order to play. See the full PC System Requirements to get an idea of if your rig is capable of handling the action next week while you wait.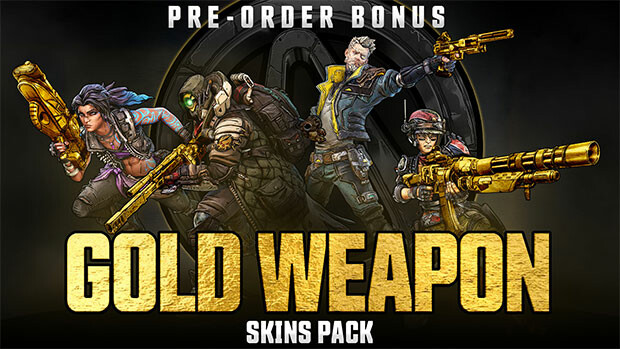 Borderlands 3 launches on September 13th 2019 and you can pre-order the game in three different editions at Gamesplanet (Official Partner of 2k Games) as Epic Games Keys. Those who pre-order the game will not only get the Gold Skins Package, but also Gamesplanet Wallet Cashback as a bonus! Take a look at our Version Comparison to break down what the content of the Standard, Deluxe and Super Deluxe Edition contains with a handy overview.