Call of Duty: Modern Warfare PC Beta System Requirements and Graphic Settings Revealed
Activision and Infinity Ward give a taste of war by revealing the Beta PC Requirements and Settings players will be able to enjoy with the PC version of the upcoming Call of Duty: Modern Warfare on October 25th. Play the Beta from September 19th!
War returns next month when the fast paced shooter Call of Duty: Modern Warfare launches on October 25th. You'll also be able to jump into the PC Beta from today (with Early Access pre-orders). Not sure if your PC is up to to the task of running the game? No worries, publisher Activision and developer Infinity Ward have released the Specs required to run the upcoming Beta and given us a glimpse at what players can expect to run the game. We also get a taste of what the PC Version will have on offer with various graphical options, keybinds and more!
Does your PC meet at least the minimum requirements of Call of Duty: Mdoern Warfare's upcoming Beta? If yes, then take a glance at some of the PC features that'll be included within the game. In advance, developer Infinity Ward have given us a taste of what PC players can expect with support for higher framerates, wider FOV, film grain, post-processing filters and much more. Take a look at the requirements and PC Settings below while you wait for the game to launch!
Call of Duty: Modern Warfare PC Beta System Requirements
Minimum:
Requires DirectX 12 compatible system
OS: Windows 7 64-Bit (SP1) or Windows 10 64-Bit (1709 or later)
CPU: Intel Core i5 2500k or AMD equivalent
Video: Nvidia GeForce GTX 670 2GB / GTX 1650 4GB or AMD Radeon HD 7950
RAM: 8GB RAM
HDD: 45GB HD space
Network: Broadband Internet connection
Sound Card: DirectX Compatible
Recommended:
Requires DirectX 12 compatible system
OS: Windows 10 64 Bit (latest Service Pack)
CPU: Intel Core i7 4770k or AMD equivalent
Video: Nvidia GeForce GTX 970 4GB / GTX 1660 6GB or AMD Radeon R9 390 / AMD RX 580
RAM: 16GB RAM
HDD: 45GB HD space
Network: Broadband Internet connection
Sound Card: DirectX Compatible
Note: These settings are based on the Beta only and may not be representative of the final version.
Call of Duty: Modern Warfare PC Graphic Settings
Graphic Options
Display Options: Support for Fullscreen, Window and Borderless Window modes. Refresh rates, Display Monitor, Render Resolution, Aspect Ratio, V-Sync and more. You'll also be able to have an uncapped framerate if you prefer that. Players can also change their GPU Adapter and Gamma.
Details and Textures: As you'd expect with a PC version, you'll have control over the Texture Resolution, Texture Filter Anisotropic, Particle Quality, Bullet Impacts, and Tessellation. When you start the game for the first time it'll automatically adjust based on your GPU, but you can change these manually.
Shadow & Lighting: With a much more improved visual look, Shadows & Lightning will play a key part in the experience and you'll be able to adjust Shadow Map Resolution, Shadow Caster Levels, Cache Spot Shadows and Sun Shadows, Ambient Occlusion, and Particle Lighting. Depending on your hardware, some options may result in performance hits.
Post Processing Effects: Toggle between various Anti-aliasing options and other visual enhancements such as Film Grain, Temporal Blur, Filmic strength and more.
Keyboard & Mouse Options
Mouse and Movement: Change your mouse sensitivity, which can be adjusted for different aspects of the game - such as being in a vehicle vs being on foot. The game will also offer multiple Aim Down Sights (ADS) options to the player with Legacy and Relative. Legacy allows for rotation speed to feel faster when aiming down sights, while Relative uses an improved mouse algorithm to match mouse movement with on-screen movement (without being affected by FOV). Players can also set various sensitivity multipliers for scopes, and ADS sensitivity. No matter how you prefer to play, the game has plenty of customisable control options at your disposal. Customise Mouse acceleration, an Automatic Airborne Mantling toggle, and various keybinds that can be tailored to your preference.
Weapon: Here you'll be able to customise the behaviours for weapons, such as weapons changing whenever you try to fire a gun without ammo, changing the ADS, and whether not equipment can be activated by holding or a toggle. You can also change your Weapon Mount Activations to suit your playstyle.
Switch Weapon Minimum Delay: Change the minimum time in which you'll be able to change weapons again. Lower values help swapping quicker, but will result in more difficult swapping with the mouse wheel. This can be used if you're used to a fast scrolling mouse wheel. Having options to change the delay in which you swap can help players who have higher reaction speeds.
Weapon Switch Wrap-Around: Enable to cycle weapons on a loop when switching between them, or disable to make sure the next weapon button will swap weapons until you are holding the last equipped weapon. This option is handy if you prefer using the Previous Weapon to always grant you your Primary and Next Weapon to grant you your Secondary weapon.
Weapon Mount Exit Delay: Allows players to customise the amount of time between a directional input must be held before being registered to exit Weapon Mounting and is useful for players who like to Enter/Exit mounting quickly.
Vehicle & Killstreaks: Rebind the keys required for various vehicles or killstreaks to make them best suited to you.
Interface & Audio: Here you can change the Menu behavior, such as being able to toggle or hold a key to bring up Scoreboard/Objectives.
General Options
Default Settings
Screen: As always, FOV is very important to the developer and with COD Modern Warfare you can rest assured that PC players are taken care of. No matter what type of monitor you're using, everything from small to ultra-ultra-wide displays will be supported. Each weapon will also have their own weapon zoom level. Set your Aim Down Sights FOV to Independent to allow for ADS to override FOV settings, or keep as relative to allow weapons to scale the FOV based on your settings. You can even adjust your Horizontal and Vertical HUD Bounds to best suit your screen.

Accessibility & Content Filters: Here you'll be able to change various aspects, such as being able to turn the Text Chat on/off.

Telementery: Get access to various game states including the FPS Counter, Server Latency, and even voice chat so you can keep track of important things to see how your game performance is.
Audio Options
Finally there's a variety of Audio Options to give you the best possible sounding game. Adjust separate volume levels for Music, Dialogue and Effects, or change the overall master volume for all sounds. You can even pick between various Audio Mix presets to give better sounding audio depending on your hardware. From here you'll also have control over Hit Marker Sound Effect and Voice Chat settings.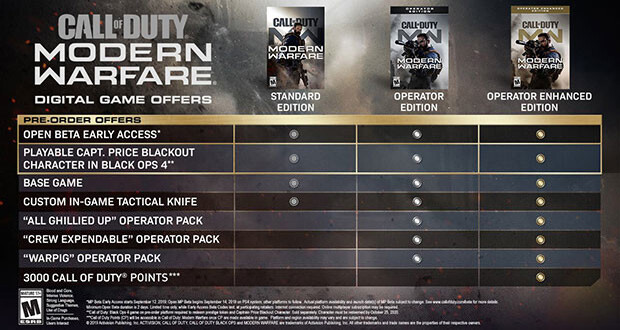 Call of Duty: Modern Warfare launches on October 25th 2019. Pre-order the game online at Gamesplanet now to get Early Access to the Beta today and the classic Captain Price as a playable character for Black Ops 4's Blackout Mode!