October 26, 2023 – RafalM

GP Team
Everything you need to know now about the release of Cities: Skylines II
Publisher Paradox has finally released a successor the successful most realistic city-building simulation game with Cities: Skylines II. What you should know about the city-building game now, you can read here.
What is Cities Skylines 2?
Cities Skylines 2 is a fascinatingly realistic city-building game that gives you the opportunity to create a city from scratch and transform it from an initial village or town into a thriving metropolis. With all the challenges that go with it. With your creativity, you not only craft functioning districts, such as residential, industrial and recreational areas, but also meaningfully connect important networks. The energy supply must be guaranteed - even in the event of a disaster, such as a fire. Fire station built nearby? Good! But stinking sewage must also be routed through pipe systems in such a way that it does not pollute clean drinking water and become an environmental problem. Also, no one wants to live in the middle of a smog-covered industrial area. Make sure that the air remains clean and that the inhabitants of your city feel comfortable.
Compared to its predecessor Cities: Skylines II goes even further into the depths of city building, but at the same time lets you build even higher. Skyscrapers gleaming in the evening sun - you want them too! Cities: Skylines II is also a leap forward graphically and visually superior to its predecessor. Sooner or later, when the transport connections are perfectly interlocked, residential and business districts are linked and the inhabitants work like busy bees to ensure that you are also well positioned economically, the true diversity of Cities Skylines 2 becomes apparent, because your management of a growing metropolis also decides on the number of inhabitants, not infrequently on life and death, and also the maintenance of a functioning infrastructure can be tricky.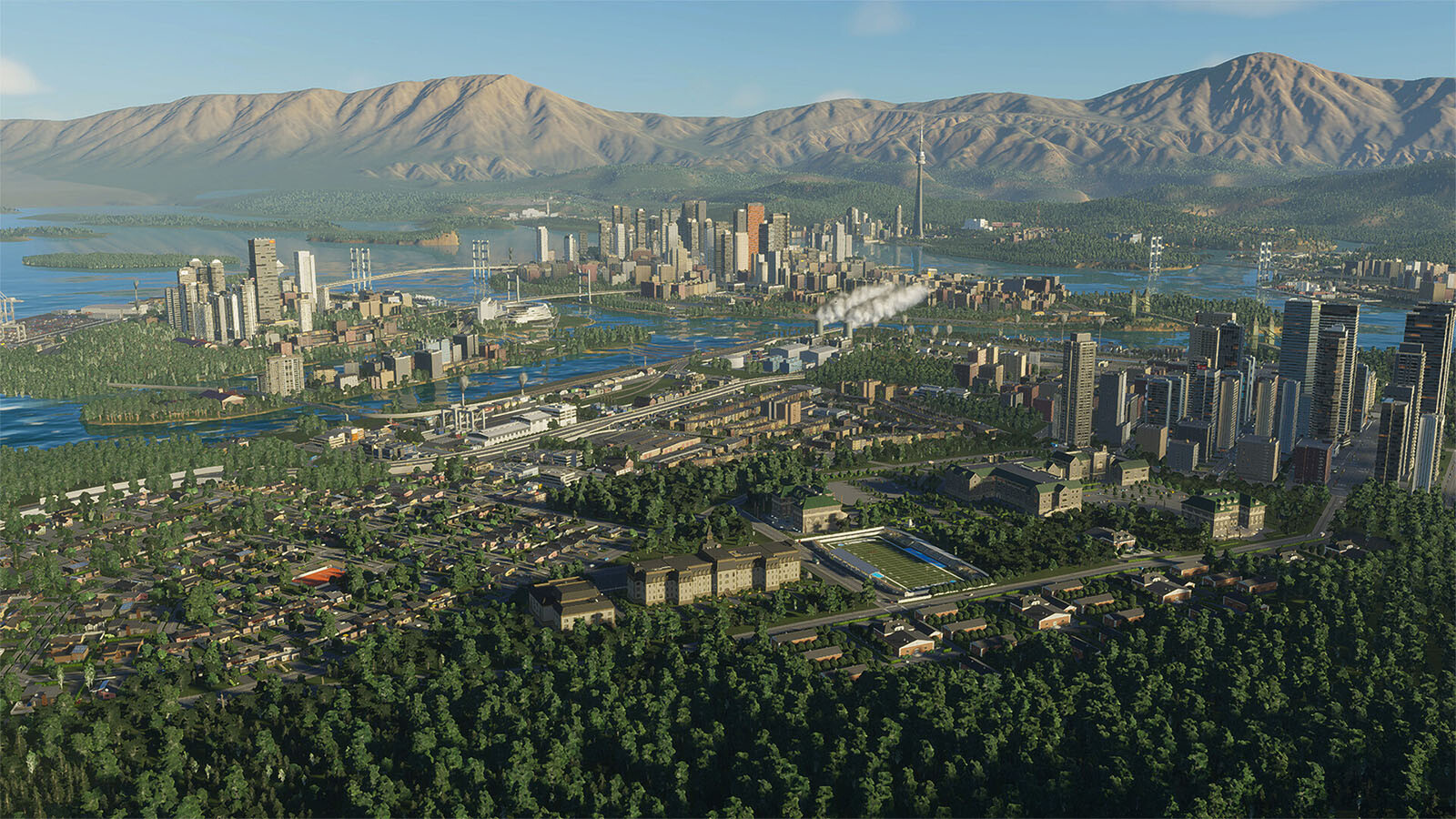 Different maps, weather changes and seasonal challenges influence your actions. In Cities Skylines 2, you have to react to unpredictable events, because the game worlds in this city-building simulation are dynamic and always require adaptation. This is now also based on an enhanced AI in the game, which sometimes depicts traffic more realistically and reacts adequately to economic contexts and special events. Cities: Skylines II not only tops its predecessor when it comes to building higher and further - developer Colossal Order has integrated a number of comfort improvements. For example, road construction is supposed to be much easier and more flexible.
Cities: Skylines II - the best trailers
The Paradox videos illustrate how beautiful Cities: Skylines II has become and how striking the visual differences are compared to its predecessor. We have picked out the best trailers for Cities: Skylines II and put them in a playlist for you. Watch them here:
The system requirements of Cities: Skylines II
What hardware does Cities: Skylines II require in order for the opulent city-building simulation to run smoothly? It is difficult to answer this question satisfactorily for the release on 24 October. Publisher Paradox has already announced in a statement that CSII may have performance problems at the start, even on very fast PCs. Depending on how big and how complex your city is. Experiences here are very individual in advance. The remedy for the time being is to reduce the graphics settings.
As Paradox always puts great importance to clean game performance, we are sure that patches will solve the biggest problems soon after release. It is possible that your FPS will drop later in the game as your skyscrapers grow - playing at 30 FPS should still be acceptable. If you can't wait for updates that improve the flow of the game, you should lower the resolution and graphic details until then.
Before you do the first tarmac work, please remember to install the latest drivers for your graphics card for the release. AMD / Nvidia.
Minimum system requirements
Operating System: Windows 10 Home 64 Bit

Processor: Intel® Core™ i7-6700K | AMD® Ryzen™ 5 2600X

Memory: 8 GB RAM

Graphics: Nvidia® GeForce™ GTX 970 (4 GB) | AMD® Radeon™ RX 480 (8 GB)

Disk: 60 GB available storage space.
Recommended PC configuration
Operating System: Windows® 10 Home 64 Bit | Windows® 11

Processor: Intel® Core™ i5-12600K | AMD® Ryzen™ 7 5800X
Memory: 16 GB RAM

Graphics: Nvidia® GeForce™ RTX 3080 (10 GB) | AMD® Radeon™ RX 6800 XT (16 GB)
Data storage: 60 GB available storage space
Cities: Skylines II Edition comparison - what's in the packages
Regardless of whether you are new to the series or have been playing for years - Cities: Skylines II offers a construction kit for beginners and construction professionals. You can start with the Standard Edition and expand your cities later with DLCs. If you already know you'll be putting hundreds of hours into the game, you'd better get the Ultimate Edition right away, which includes the base game and Expansion Pass - with upcoming DLCs for the game! Even new radio stations are included.
| Cities: Skylines II | Standard Edition | Ultimate Edition |
| --- | --- | --- |
| Game (Steam-Key) | | |
| Pre-order bonus (Landmark Buildings Bonus) | Pre-order | Pre-order |
| San Francisco Set | | |
| Beach Properties Asset Pack | | |
| Content Creator Packs x 2 (Urban Promenades/Modern Architecture) | | |
| Bridges & Ports Erweiterung | | |
| Radiosender x 3 (Deluxe Relax Station/Soft Rock Radio/Cold Wave Channel) | | |
Buy Cities: Skylines II - at Gamesplanet with pre-order bonuses
Pre-order Cities: Skylines II now at Gamesplanet.com as Standard Edition or Ultimate Edition and get the "Landmark Buildings" bonus!
Make your city stand out from the crowd with 9 unique buildings designed after landmarks from around the world. Also included is a map based on the landscape of Tampere (Colossal Order's headquarters).

Problems with Cities: Skylines II? Our support team rushes over
We are happy to help if you have technical problems with Cities: Skylines II or questions about purchasing and activating it. You can contact our helpful support team at [email protected].