September 15, 2022 – CraigB

GP Team
Expand your city with the Plazas & Promenades DLC for Cities Skylines - Out Now!
You've built huge, functioning cities in Cities: Skylines and now it's noisy and stinks of car exhaust fumes? Well, there's nothing you can do about it. Unless...
Unless you install the new Cities Skylines expansion Plazas & Promenades. According to the motto "Our city should become greener", with the DLC you have a proven means against noise and car traffic: pedestrian zones. Create car-free zones, more modern, greener squares and give your citizens plenty of room to run around! That will make the bipeds happier, guaranteed. And you too, because as you can see here in the release trailer for Cities: Skylines Plazas & Promenades, the beautifications from the expansion look pretty good.
Pedestrian-only streets, entire pedestrian zones, new modern buildings and more than 300 objects - quite a lot of new things in the expansion. Fortunately, modernising your city is quite easy, because Cities Skylines offers you flexible design options with a comfortable user interface. By the way: If you want to be really nasty but increase the life expectancy of the inhabitants, simply ban the sale of sugar in the city. If you want to be old, you have to suffer.
The special features of Cities: Skylines - Plazas & Promenades
Plazas & Promenades
Let your citizens walk freely on pedestrian-only streets! Place them in your city like any other road and create new green city centers free of most vehicles and noise pollution.
Pedestrian areas and new Policies
Activate three area-specific policies for your city including Slow Driving: all roads in the pedestrian area, except highways, get a speed limit of 20 km/h. Sugar Ban: increases the average lifespan of citizens in the pedestrian area but decreases their happiness. Street Music: increases happiness and noise pollution in pedestrian commercial areas.
District Specialization
We added 3 new district specializations: offices, high-density residential areas, and high-density commercial areas. Setting a specialization on a district affects all area squares in that district that will spawn buildings with a different visual appearance and a gameplay effect. Each specialization features 24 new modern wall-to-wall buildings!
City service buildings
Service buildings are important, but how about awesome-looking service buildings? Connect them to pedestrian areas by matching their visual style and providing services that contribute to good happiness values (one of the main metrics of a successful pedestrian area).zone).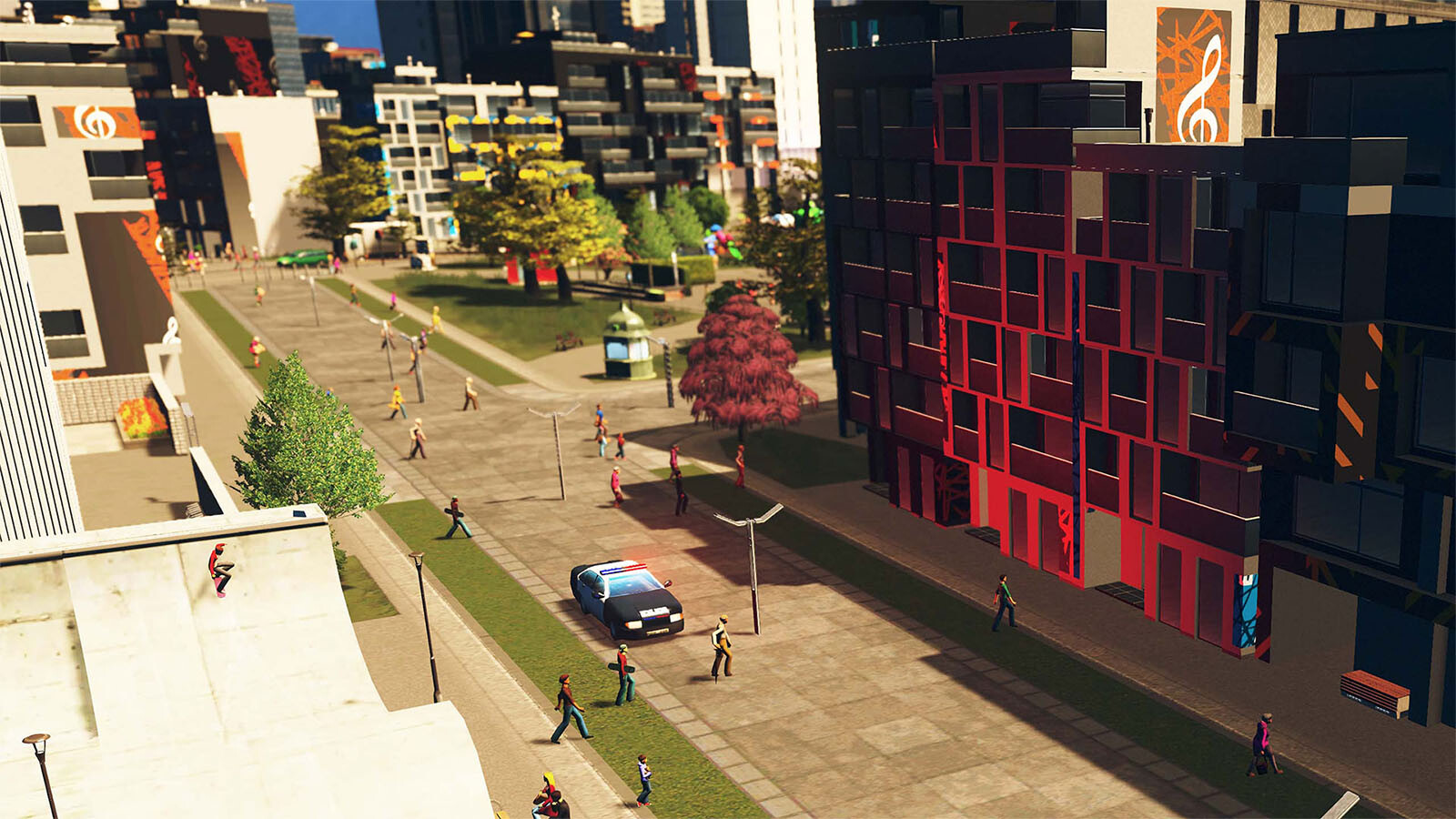 Buy Cities Skylines: Plazas & Promenades for less
We offer you Plazas & Promenades as a single expansion at a discount on Gamesplanet. But you can also grab the bundle, together with four other new additions for Cities Skylines: Mid-Century Modern (by modder REVO), Seaside Resorts (by modder Gèze), Paradise Radio (80s synth music) and Shoreline Radio (New-Age-Indie-Folk) are in this bundle together with Plazas & Promenades.
Save on Cities Skylines with our Promo
That's not all though! To celebrate the launch of the brand new dlcs we're offering discounts on the game and previous expansions until September 19th at 3pm PDT / 11pm BST. Grab the base game Cities Skylines for 77% off and up to 53% off various DLC.
W = Windows / M = Mac / L = Linux