February 19, 2020 – CraigB

GP Team
Fly a drone like a professional with DCL - The Game, which takes flight with a new launch trailer!
Pilot your own drone and race with DCL - The Game, the brand new flight simulator based on the Drone Champions League! Real drone pilots will enjoy DCL - The Game, as well as other gamers looking for the speed rush.
Drones are a bit part of life today, and with an increase in the way we use these little machines they're getting represented in video games (including in Watch_Dogs 2. However a brand new game from developer Climax Studios and publisher THQ Nordic is taking on the Drone Champions League with the release of DCL - The Game. Swoop under bridges, high in the sky and take a look at the new launch trailer to get an idea of what awaits:
As a pilot of a virtual drone, you need good reflexes, because at insane speed you'll dash over 24 flight routes with authentic drones, some of which are even based on real models, such as the snow half-pipes from LAAX and the Ehrenberg castle ruins near Reutte. Authenticity was obviously important to the developers, because it is even possible to control the drones in DCL - The Game with real drone controllers.
DCL - The Game Features
FLY AROUND THE WORLD

Fly through over 30 spectacular tracks and compete online against other pilots from all over the World!
Discover real drone racing tracks like the snow halfpipes of LAAX or the castle ruins of Reutte. Race through the incredible Proptown and Oilbando, as well as other real-world DCL races locations: each will present a new and unique challenge and will demand all your piloting skills!
ARCADE OR SIMULATION?

DCL - The Game presents the perfect challenge for every experience level. You can have fun with the Arcade mode even if you have never seen a drone before. You can improve your skills as an amateur pilot or you can practice and compete as an experienced pilot. You will be able to fly in four flight modes:
Arcade Mode: Perfect for racing thanks to the automated altitude control and simplified controls.

GPS Mode: Flies like your standard camera drone, with stabilization and altitude control: it's Ideal to practice your piloting and filming skills, but not designed for racing.

Angle Mode: Also known as Stabilized mode, it's available on most amateur racing drones and great for practicing. Not ideal for top racing performance.

Acro Mode: This is how the real drone racing and freestyle pilots control their drones. You will have the complete control over the aircraft, in order to compete at the highest levels. It will take some time and dedication to master but it will allow you to experience flying at its fullest!
FLY LIKE A PRO!

Control your drone with a keyboard, gamepad or - for the ultimate simulation - connect your transmitter and fly like a real drone pilot! Beginners can fly in Arcade or GPS mode and use keyboard or gamepad as their input method. For full immersion – and to achieve the fastest times – we recommend flying with a transmitter: we recommend this input method, especially if you want to qualify for the DCL Draft Selection, because it prepares you for flying with a real drone!
COMPETE WITH THE BEST PILOTS WORLDWIDE!

Compete synchronously online in Raceflow mode with pilots from around the World.
Join regular online Tournaments and Special Challenges for pilots of all skill levels.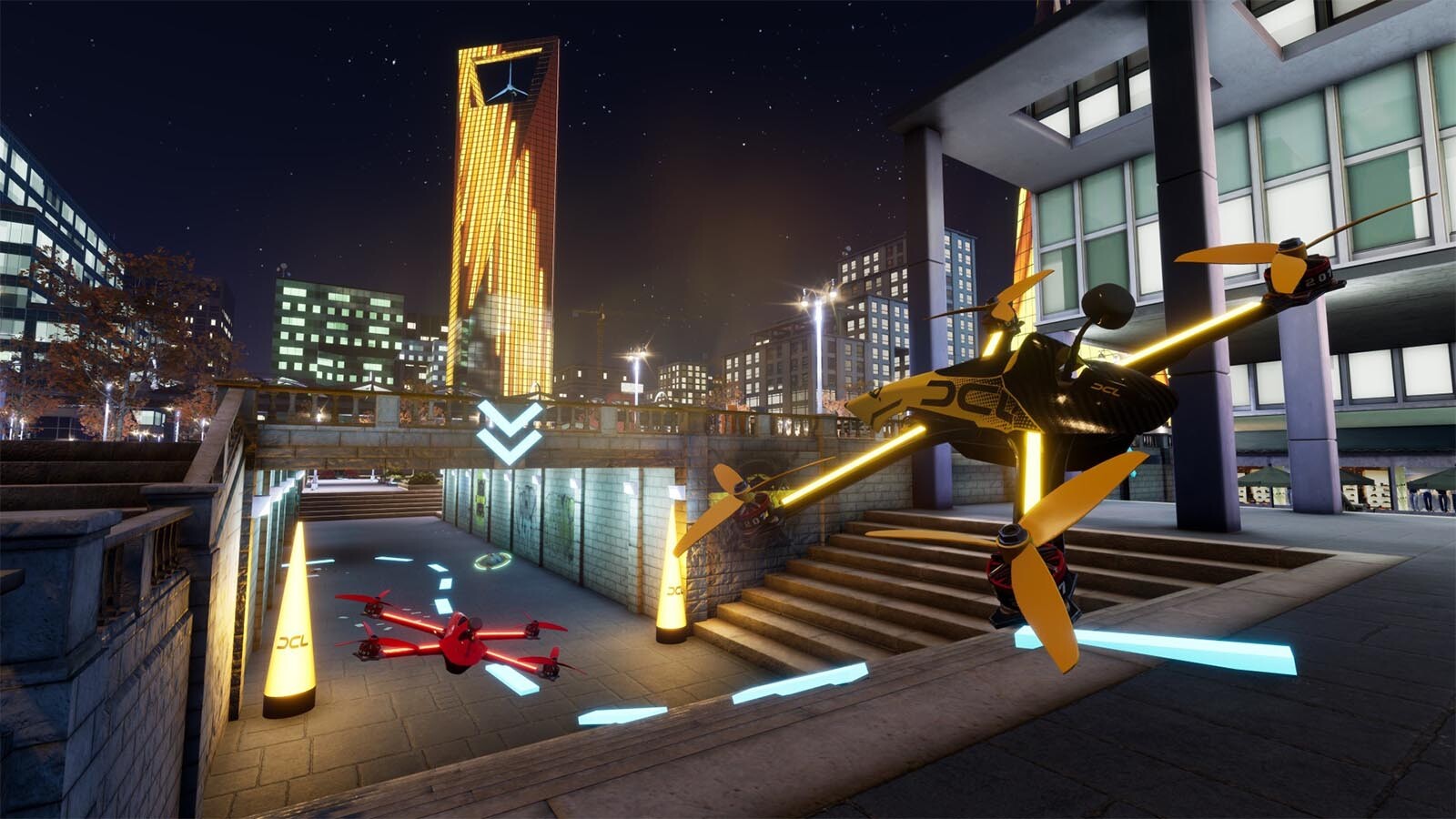 Planned updates for DCL - The Game post-launch
THQ Nordic is already announcing DLC content for DCL without giving any specific dates. All drone pilots, who also participate in competitions, should be pleased about this.
Make real-life DCL tracks available in the game before the actual event - hold qualifying for the real race in the game
Route editor for creating individual routes (only for PC)
DCL - The Game is now available from Gamesplanet.