September 23, 2021 – sebbla

GP Team
The new character creator in Farming Simulator 22
GIANTS worked on the new character editor and added many new and additional options to customize your character so you'll be prepared for the cross-platform multiplayer!
The new character creator for FS22 will allow players to customize their characters to look the way they want. Not only will you be able to change your body type, but you'll also be able choose the accessories and the clothes you want. There are more variants for hairstyles or beards and also more choices for glasses, gloves, hats and other pieces of clothing. No-name clothes hang in the virtual farmer's locker, as well as original clothes of well-known brands.
Suitable for every season
And why not equip a F1 driver outfit
A complete list of options:
Character
Hairstyles
Beards
Mustaches
Outfits
Tops
Bottoms
Footwear
Headgear
Gloves
Glasses
With the pre-order of Farming Simulator 22 as Steam or GIANTS version, you will get the pre-order bonus: the Claas Xerion Saddle Pack, including the Claas Xerion 4200 Saddle Trac and four other machines from Kaweco.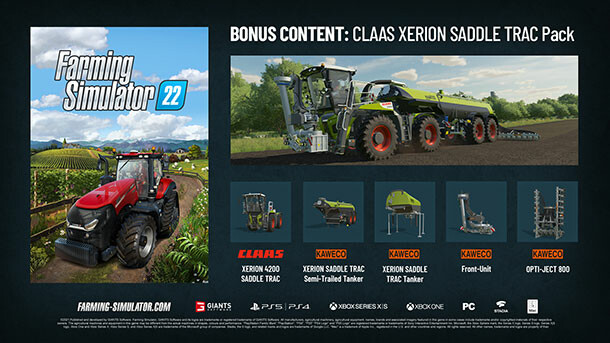 Source: https://www.farming-simulator.com/newsArticle.php?lang=en&country=en&news_id=259