October 06, 2021 – CraigB

GP Team
Rock and roll with new ground tools and textures in Farming Simulator 22
Giants Software shows off new options coming to Farming Simulator 22 in November, including texture improvements and ground tools!
With the release of Farming Simulator 22 from Giants just around the corner on November 22nd fans of the series have plenty to look forward to as they plan to make the next entry in the series the best yet. Along with countless models, character customisation the game will also receive some new tools including: Mulching, Stone Picking and Soil rolling.
New Features: Mulching, Stone Picking and Soil Rolling
Mulching
One of the new features in the game will be Mulching, which will allow farmers to improve the soil quality to harvest better crops. This is especially useful for grape harvesting as you can attach a mulcher to your tractor to cut and apply fresh grass to the surface of the soil. You'll even be able to mulch the stubble left on the field to improve the overall yield you receive.
Stone Picking
Want to avoid pesky stones taking over your friends? Try the new stone picker and make them a thing of the past. You can even sell the rocks you collect by selling them to the debris crusher, giving you some extra funds to plant other crops or perhaps buy that new tractor you were looking at.
Soil Rolling
Any serious farmer will want to maintain their soil and with the soil roller you'll be able to turn over the soil in order to get the best possible field ready for planting. Rolling the field also provides a boost to the yield too. Combine Mulching, Stone Picking and Soil Rolling to give the optimal harvest.
Ground textures also get an upgrade
Finally, Giants have confirmed that most of the textures have been reworked - allowing for players to see the difference in the quality of their soil and stop friends who are working with you from slacking off with an unrolled seedbed.
Buy Farming Simulator 22: Steam or GIANTS key?
Next month, developer and publisher GIANTS Software will release Farming Simulator 22 on November 22nd. You can pre-order either a Steam or GIANTS Key for FS22 on Gamesplanet. The bonus content for the pre-orderers, i.e. the CLAAS XERION SADDLE TRAC Pack, will of course also be delivered. Also nice: Thanks to our new Early Bird Program for all pre-orderers, you will also receive a free bonus game from us. How to activate it is described on our Farming Simulator 22 Early-Bird page.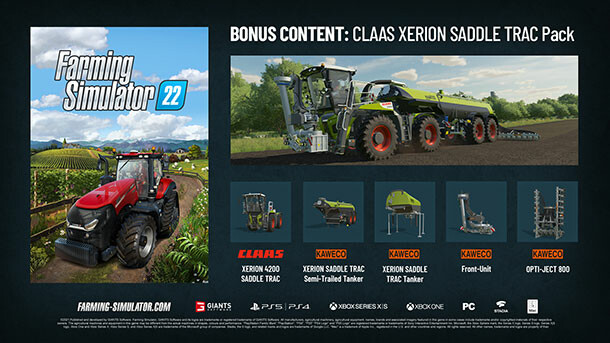 Source: https://www.farming-simulator.com/newsArticle.php?news_id=262