October 21, 2021 – CraigB

GP Team
The land where honey flows: Greenhouses and Beekeeping in Farming Simulator 22!
Virtual farming can be this cute: GIANTS Software announces new features for honey production in Farming Simulator 22 with a new animal trailer. Also delicious: strawberries and tomatoes from the greenhouse!
Sweet strawberries, even sweeter honey, sweetest farming: Today developer GIANTS has unveiled new features from Farming Simulator 22, which is approaching its release on November 22nd 2021. A new trailer gives us a look at the farm animals, which now look even "cuter", and new wild animals, which bring a bit of zest to the Farming Simulator 22 landscape and makes everything hairy.
GIANTS points out in a PR message that there will be significantly more harvesting and more things to do in FS22. Which means: More crops and more gameplay features. The extended complexity should mainly benefit the multiplayer mode, it is said. So that farmers and peasants can divide up the tasks among themselves in group play.
Strawberries, honey, sweet animals (before slaughter)
Farming Simulator 22 not only turns you into PC farmers, but also into animal keepers and beekeepers. You can set up beehives on your farm. But please, not just anywhere, because Farming Simulator 22 is not only about rough farming, but also about fine details. If your bees are buzzing around sunflowers and rape, for example, the yields from these crops will also increase. You could say that beehives are a pollination upgrade for your crops. And in the end, you'll even have delicious, profitable honey to suckle on.
So get into your protective suits and collect honey. In Farming Simulator 22 you can either sell it directly, or have it processed into other products by the local muesli factory. GIANTS also deals with the change of seasons. While the beehives are still busy in spring and summer, they will be empty later in the year. It is a well-known fact that bees do not like the cold at all. If the buzzing friends are quasi-hibernating, you will have time for other tasks in autumn and winter. Why not stroke the cute sheep and horses on your farm to calm down a bit between harvest excursions?
It's so green when GIANTS' greenhouses are standing - lots of new pictures
How can anything grow when the sun hardly shines? That's right, with the help of greenhouses! Greenhouses will be available in Farming Simulator 22 in different sizes. You can grow lettuce and tomatoes in them, but also strawberries if the summer honey has triggered your sugar addiction.
However, all this is not really meant to taste good to your virtual farm operator, but to be brought to the market. If the water supply to your greenhouses is right, then you are guaranteed a stable income even in the winter months when the plants outside in the fields are no longer producing anything. The change of seasons in the new Farming Simulator 22 is not only a visual gimmick, but also a clear plus for varied gameplay.
Buy Farming Simulator 22: Steam or GIANTS key?
Next month, developer and publisher GIANTS Software will release Farming Simulator 22 on November 22nd. You can pre-order either a Steam or GIANTS Key for FS22 on Gamesplanet. The bonus content for the pre-orderers, i.e. the CLAAS XERION SADDLE TRAC Pack, will of course also be delivered. Thanks to our new Early Bird Program for all pre-orderers, you will also receive a free bonus game from us directly after purchase. How to activate it is described on our Farming Simulator 22 Early Bird page.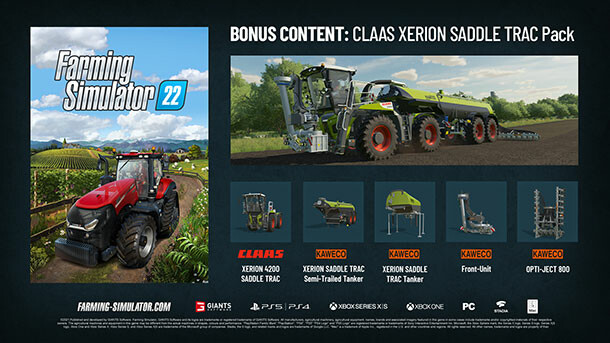 Source: https://farming-simulator.com/newsArticle.php?&news_id=272