July 12, 2022 – CraigB

GP Team
Farming Simulator 22 Platinum Expansion lauches November 15th 2022 and pre-orders open!
New machines, a new map, fresh gameplay features: GIANTS Software has announced the release of Farming Simulator 22 Platinum Edition and a Platinum expansion for November 15th 2022.
It should come as no great surprise that GIANTS Software will sooner or later also pay homage to Farming Simulator 22 with an expanded Platinum Edition and a Platinum Expansion. All the greater is the joy among PC farmers that with the new content for the release of the Farming Simulator 22 Platinum Edition on November 15th will add a range of new options to the game. Last but not least, the recently entered partnership with the Swedish Volvo Group will increase the machine and vehicle fleet. You can expect these innovations:
Farming Simulator 22 Platinum Expansion includes Volvo Group & more new brands
Farming Simulator 22 Platinum Edition includes the base game Farming Simulator 22 + Expansion.
Release digitally on November 15th 2022 for PC & consoles
More than 40 new vehicles and machines, bringing their number to more than 500!
New map, gameplay mechanics and production chains
500 machines for virtual farming and new map Silverrun Forest
With the fleet of the Volvo Group, including the currently presented Volvo L200H High Lift wheel loader, more than 40 vehicles and implements based on the originals will be added to the Farming Simulator 22 Platinum Edition, in addition to John Deere, Koller, Schwarzmüller, Pflanzelt and IMPEX - alternatively, you can simply expand your fleet with the Platinum expansion so that you don't have to buy the base game again. Those who prefer to travel with John Deere can look forward to the integration of the John Deere 843L-II and the John Deere FD55 wheel feller-buncher. According to developer GIANTS, more announcements will follow soon. In total, Farming Simulator 22 with the Platinum expansion comes with 500 machines and tools from 100 well-known manufacturers. Boris Stefan, Head of Publishing at GIANTS Software comments:
What we have achieved here with Platinum status is the most comprehensive and varied virtual farming experience the genre has to offer.
You have already ploughed all the fields of the previous maps in Farming Simulator 22 and want to let off steam on a new map? Then look forward to Silverrun Forest, the new map that will also be part of the Platinum expansion. GIANTS was inspired by the Pacific Northwest of the USA when developing the map. The name already hints at it: The landscapes of Silverrun Forest will be relatively heavily forested, which will confront you with new, forestry tasks. According to the developer, the area is full of production chains, with pretty sights, all depending on timber deliveries.
Pre-order Farming Simulator 22 Platinum Edition or the Platinum Expansion now on Gamesplanet - choose Steam or GIANTS keys.
Farming Simulator 22 Platinum Edition and the Platinum Expansion will be released on November 15th 2022. As a partner of GIANTS Software, we can already offer you the new products in pre-order as either a Steam or GIANTS key versions. For every pre-order of a complete Platinum Edition we will deliver the CLAAS XERION SADDLE TRAC Pack as a free supplement (this does not apply to the purchase of the expansion):
Bonus DLC when buying Platinum Edition in advance: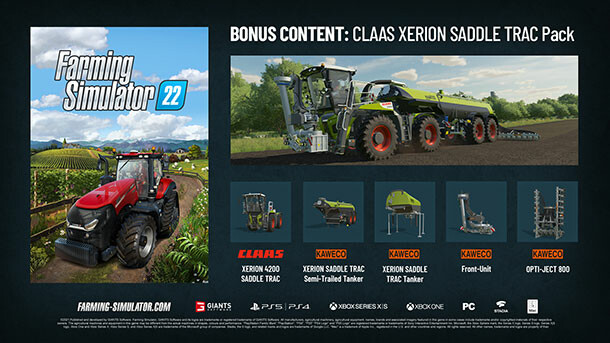 The contents of the CLAAS XERION SADDLE TRAC Pack:
CLAAS XERION 4200 SADDLE TRAC
KAWECO XERION SADDLE TRAC Tanker
KAWECO XERION SADDLE TRAC Semi-Trailed Tanker
KAWECO OPTI-JECT 800 -KAWECO Front-Unit