November 17, 2020 – CraigB

GP Team
Tackle fires in Firefighting Simulator - The Squad
Become a member of a major US city's firefighting team in Firefighting Simulator - The Squad from publisher astragon, which is now available. Fight fires solo, or team up with up to 3 others in co-op multiplayer and deploy in 30 varied locations. To give you an idea of the type of action you'll see in the game, a brand new launch trailer has been released to give you a taste of the hot conditions needed to be a firefighter.
Firefighting Simulator - The Squad makes it burn properly in North American environments. When the alarm goes off, you and your firefighting team will have to go out and tackle fires in big cities. Not only that, but Firefighting Simulator - The Squad has faithfully recreated vehicles and equipment of the North American Fire Fighting Association. These include fire engines from Rosenbauer America, helmets, boots and even the breathing apparatus look authentic.
Features
The multiplayer co-op mode allows you to play in a team with up to three friends to save lives and, of course, fight fires. Within the team you are free to assume whichever role that suits you most.
In single player mode, you will experience up close what it means to fight fires in a major US city as the leader of an experienced firefighting team. Thanks to the intuitive command UI, you take control of assigning tasks to your AI colleagues and jump right into the thick of the action yourself.
Advanced fire simulation, including water, smoke, heat, back drafts, flashovers, grease fires, and a wide range of other causes of fires, such as electronics, chemicals, and explosions.
A complex physics system ensures the realistic representation of the destruction caused by dynamically spreading fire.
Drive five licensed Rosenbauer America fire trucks, such as the TP3® Pumper, or the T-Rex® hydraulic platform through a large US city – also in cockpit view.
Use authentic equipment by well-known US firefighting industry brands, such as Cairns®, MSA G1® SCBA, and HAIX®.
Great replay value thanks to 30 different deployment locations, each offering several ways to beat the fires, both day and night.
Comprehensive tutorial, radio communications, and character recordings in English, as well as subtitles in several languages, and faithfully recreated engine sounds for an even denser atmosphere.
A detailed 15k acres large US city with different districts, such as an industrial area, suburbs, and downtown.
Supports standard steering wheels and gamepads
A comprehensive tutorial takes you through the basics of fighting fires.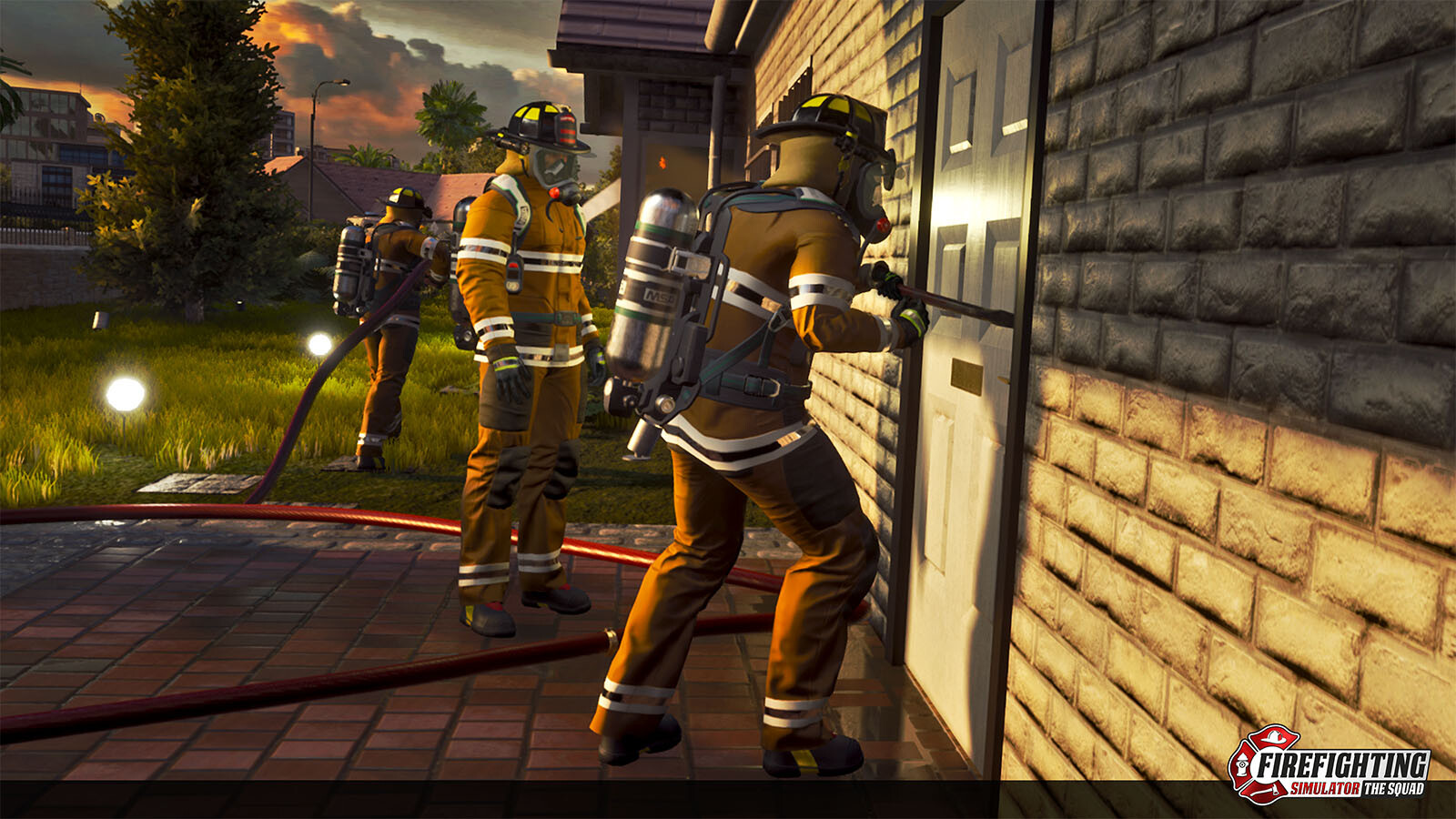 Firefighting Simulator - The Squad is now available at Gamesplanet and you can save 25% off during launch week!