February 10, 2017 – CraigB

GP Team
For Honor Pre-load is Now Available!
The wait for For Honor continues, but now you can start pre-loading the game ahead of the launch on Tuesday. As soon as you purchase your game, you'll be able to add the game to Uplay and then pre-load.
Click on the For Honor entry in your Uplay Library (make sure you're selecting For Honor and not the Open Beta) and start downloading, you'll need at least 32.81 gigs of HDD space to pre-load (with a recommended 40 gigs after install).
Please note that you'll not be able to play until February 14th!
Versions Available
Unsure what version to purchase? Check out the comparison below for a better understanding of what you get in each Edition.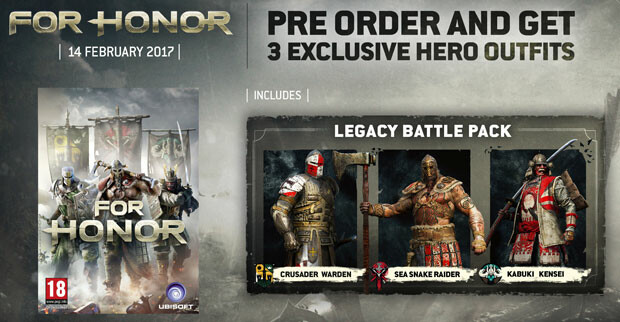 For Honor will be available February 14th, pre-order the game today to receive the Legacy Battle Pack for free!