October 19, 2022 – CraigB

GP Team
Gotham Knights - Everything you need to know!
Protect Gotham from evil when Gotham Knights launches on October 21st 2022. Get up to speed with our handy recap guide while you wait!
What is Gotham Knights?
Gotham Knights is the latest title from WB Games Montréal, that is available on October 21st for PC, Xbox Series X and PS5. The developer is no stranger to the Batman series, having previously worked on Batman: Arkham Origins in 2013. Now almost 10 years later we're treated to Gotham Knights, a new open world 1-4 player game that puts you in the shoes of Batman's famous sidekicks: Batgirl, Nightwing, Robin and Redhood.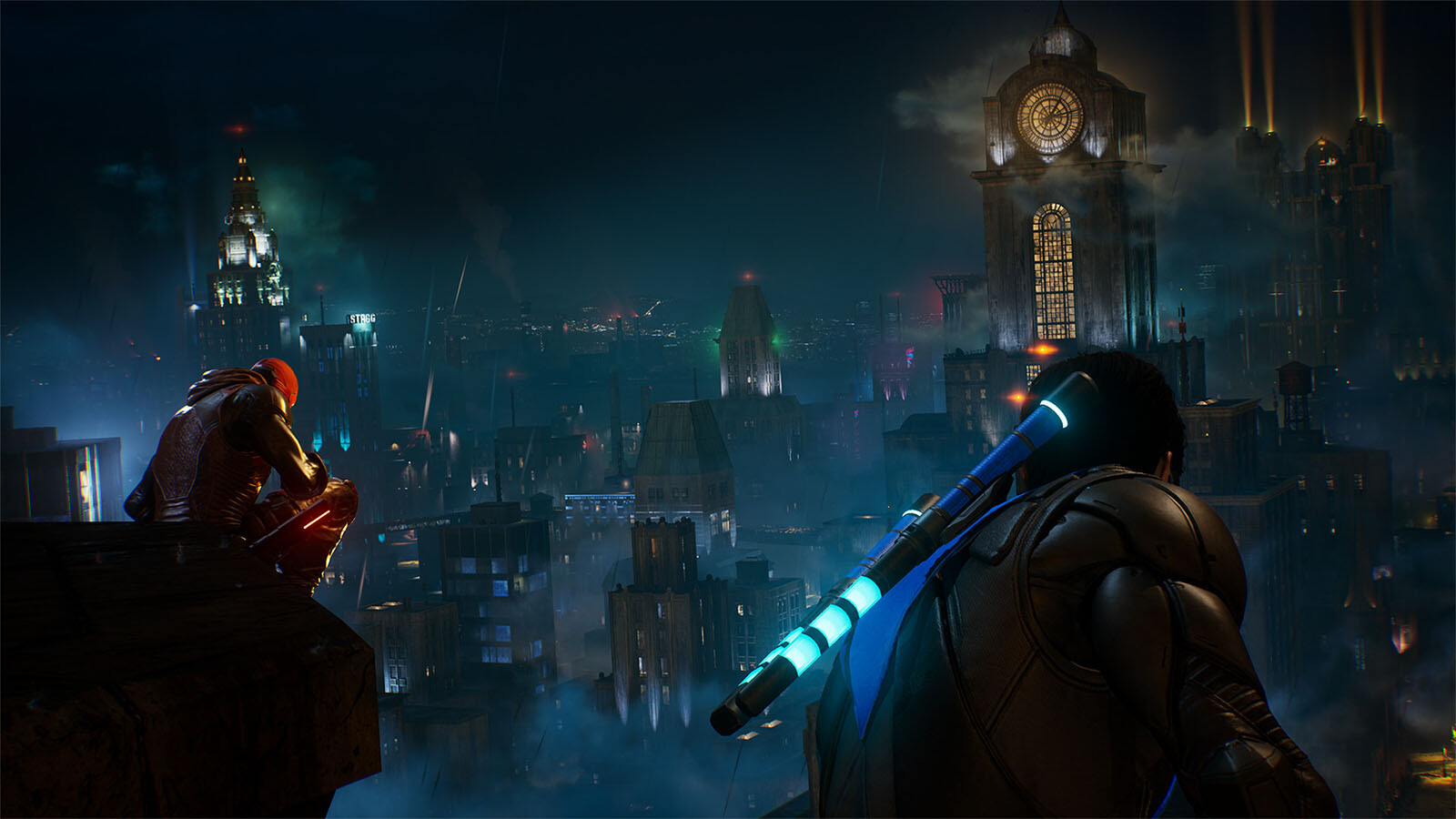 The Dark Knight himself has met his ultimately demise and it'll be up to our heroes to avenge him as they do battle with the mysterious Court of Owls, as well as coming face to face with classic villains such as Harley Quinn, Mr Freeze and more. Players will be able to play the game solo or team up with a friend in 2 player co-op. No matter the preferred hero, you can easily swap between characters to find the one that suits your playstyle and each one has their own unique abilities. For example, Batigirl uses her technical expertise to take control of enemy weapons and electronics, giving her an edge in a fight.
Gotham Knights plays much like the previous Batman Arkham games, allowing you to sneak from the shadows or get up close with your enemies. As you explore the open world you'll discover more activities and eventually take on "Boss Battles" that will test everything Batman taught you.
On the PC side of things, you can expect a wide range of options including Nvidia DLSS, Ray Traced Reflections, Multi Monitor support, higher framerates over console and much more. Though the game does require a fairly meaty setup so be sure you're ready for everything Gotham has to throw at you by checking the system requirements below.
Whether you're a Batman fan, or just someone who like Open World action games then Gotham Knights may be the game for you!
Gotham Knights - Trailer Recap
Want to get a taste of the action ahead of release? We have put all the important trailers and clips around Gotham Knights into one playlist for you. Get ready to swing with gameplay videos while you wait for release!
Gotham Knights PC Launch Times
Players will be able to step into the world of Gotham Knights on October 21st at 10am PDT / 6pm BST / 7pm CEST. Currently there is no planned pre-load, meaning you'll have to wait until release to start playing.
Preload time: N/A
Launch time: October 21st at 10am PDT / 6pm BST / 7pm CEST
Gotham Knights PC system requirements
Not sure if your PC can run the game? Take a look at the PC System Requirements needed to run the game. All players will need at least a Windows 10 64 bit OS in order to play. As always we'd recommend making sure you have the latest drivers for your Graphics Card to ensure the smoothest experience at release - AMD / Nvidia.
Minimum requirements
OS: Windows 10 64-bit

Processor: Intel Core i5-9600K (3.7 GHz) OR AMD Ryzen 5 3600 (3.60 GHz)

Memory: 8 GB RAM


Graphics: NVIDIA GeForce GTX 1660 Ti OR AMD Radeon RX 590

DirectX: Version 12

Storage: 45 GB available space

Additional Notes: 1080p / 60fps / Low Quality Settings
Recommended system
OS: Windows 10 64-bit

Processor: Intel Core i7-10700K (3.8 GHz) or AMD Ryzen 5 5600X (3.7 GHz)

Memory: 16 GB RAM

Graphics: NVIDIA GeForce RTX 2070 or AMD Radeon RX 5700 XT

DirectX: Version 12

Storage: 45 GB available space

Additional Notes: 1080p / 60fps / High Quality Settings
Does Gotham Knights run on Steam Deck?
Currently it doesn't appear that Gotham Knights will work on Steam Deck, given the fairly high requirements it's possible it may not work well (if at all).
Gotham Knights Pre-order Bonus
Those who pre-order any edition of Gotham Knights on PC before the release on October 21st will be able to get themselves a sweet 233 Kustom Batcycle Skin!
Problems with Gotham Knights? We're here to help!
Getting a new game is an awesome experience and we want to make that as trouble free as possible, so we've put together a guide of common troubleshooting problems and FAQ's to help you out with Gotham Knights on PC. You can find our Help Topic here. You can also reach us via [email protected]