February 13, 2019 – CraigB

GP Team
HELP - Locating your JUMP FORCE Pre-order Bonus & Ultimate Edition Content
Pre-ordered JUMP FORCE from Gamesplanet before release and need help hunting down your pre-order bonuses? No need to fear, we've put together a simple guide to help those get their bonuses in the game. We also give you some help finding your Ultimate Edition content.
To begin with, players must first complete the opening mission in order to access the lobby. Once you're at the Lobby you'll be able to equip outfits, items and more. You can access the Lobby either Online or Offline depending on your preference.
JUMP FORCE Pre-order Bonus
Anyone who pre-orders JUMP FORCE will be able to get their hands on some cool bonuses such as 3 Costumes, 2 T-Shirts and Frieza's Pod Vehicle for moving around in the lobby!
Equipping your Costumes & T-Shirts
Go into a lobby, pause the game and select "Customise Avatar".
Select "Top" and then locate your pre-order bonus costumes, Naruto's Hokage Coat, Gol D. Roger's Jacket, Frieza's army special Battle Suit.
You can also do this with T-Shirts for the game.
Finding your Frieza Vehicle Pod
When in a lobby, hit down on the D-Pad and select "Small Pod".
Drive around the Lobby in style with Frieza's Pod!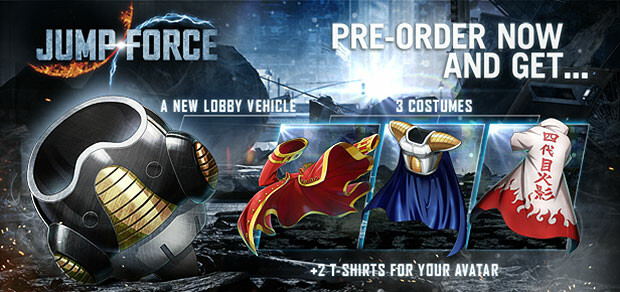 JUMP FORCE Ultimate Edition Content
In addition to the 3 Day Early Access, Ultimate Edition owners will also get a Jump Starter Pack of in-game items to kit out their avatar with, plus 16 new T-Shirts.
Equipping your Items
Open the menu for the game when you're in a lobby and select "Item".
From here you'll find your Jump Starter Pack of in-game items including some Health Boosts and even some crafting items for upgrading skills.