March 13, 2019 – CraigB

GP Team
One Piece World Seeker stretches out with the Launch Trailer
Monkey D. Luffy & Friends have apparently fallen into a trap on Prison Island in the upcoming open-world adventure One Piece World Seeker, which launches on March 15th. You take command of Luffy and use the power of the legendary Gum Gum fruit to assist you in your fight for freedom. As expected, our stretchy hero uses his skills to strike foes hard in a brand new launch trailer for the game, which has been released by Bandai Namco today!
One Piece World Seeker Features:
Dynamic Gum-Gum Action
Take control of Monkey D. Luffy and explore the vast areas of this all-new island as you try to uncover its hidden secrets.
Experience an Original Story
The Straw Hat Pirates arrive on a mysterious island known only as "Prison Island" and they're soon caught up in a dramatic story full of twists and turns. Includes original characters designed by Eiichiro Oda himself!
Fierce Battles Between Popular Characters
Face off against some of Luffy's well-known enemies from the ONE PIECE series. Use his Gum-Gum Fruit powers and powerful Haki abilities to take them down!
Pre-order bonuses at Gamesplanet
Pre-order One Piece World Seeker at Gamesplanet before the release on 15.03.2019 to get a bonus mission and additional outfits for free! These extras are available in the Standard and Deluxe Edition's of One Piece World Seeker:
Bathing Suit Outfit
Battle Outfit
Island Exploration Mission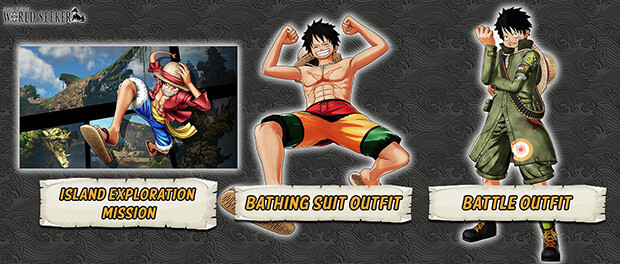 The bonus content of the Deluxe Edition
The One Piece World Seeker Deluxe Edition includes the game, Season Pass and 3 additiona costumes to kit out Luffy with:
3 costumes: Kung Fu Outfit, White Suit Outfit, Hunter Outfit
Season Pass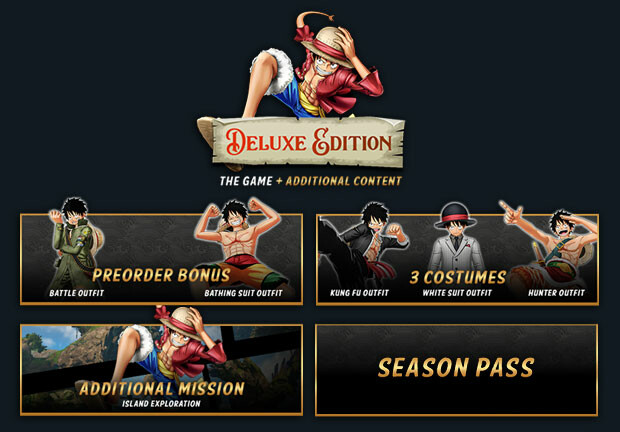 One Piece World Seeker launches on March 15th. You can pre-order the game today to save and get bonuses!