April 18, 2023 – CraigB

GP Team
Build wonderful creations with the new Park Beyond Gameplay Trailer!
Publisher Bandai Namco put you in control of making the park of your dreams with the upcoming Park Beyond, which is out June 16th. Get a taste of the action while you wait with a brand new Gameplay trailer!
Since the early 90s, we've always had some great games that let us build our own parks such as Theme Park and RollerCoaster Tycoon to name a few. Technology in games has come quite a way since then and later this year publisher Bandai Namco will deploy Park Beyond on June 16th. Created by the team at Limbic Entertainment, Park Beyond will bring you countless creation options to ensure you get the park of your dreams.
In this brand new gameplay trailer we're treated to some of that. As you'd expect with a theme park game you can manage everything from rides, layout and much more. One of the key features of the game is being able to "Imposify Rides", pushing limits of rides even further and giving unique thrills to visitors. There's so much freedom and creativity at your fingertips, and the only restriction is your imagination!
Park Beyond Features
FOLLOW A STORY-DRIVEN CAMPAIGN TO LIVE THE PARK ARCHITECT DREAM
A host of colorful and passionate characters are ready to guide you on the road to success. Meet business goals and balance fun and profitability to make your park company successful beyond belief.
Or for greater freedom, you can unleash your craziest park theme and ride ideas in the sandbox mode, where creativity is the only limit.
IMPOSSIFY RIDES AND MODULAR COASTER BUILDING
Thanks to the advanced coaster-creation tool, you will have access to dozens of innovative modules to easily create unique rollercoasters with thousands of combinations.
Plus, the over-the-top R&D department will allow you to add a dash of impossibility to your flat rides, so you can create an outstanding entertainment park the like of which has never been seen before.
FIND AND SELECT THE RIGHT INSIGHTS TO OPTIMIZE YOUR MANAGEMENT
In Park Beyond, you can delve deep into the data. To create a park beyond visitors' expectations, you can access expense data, receive feedback, and consult visitor wish lists and happiness levels. Extensive monitoring tools enable you to optimize park management by following visitor trends, creating shop designs, recruiting and managing staff, setting marketing budgets, and investing in R&D.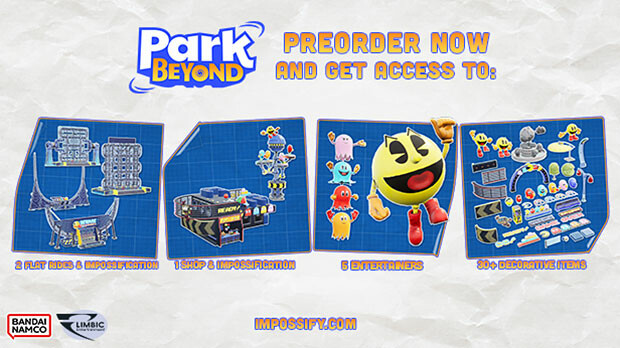 Park Beyond launches on June 16th 2023, pre-order the game today at Gamesplanet to save 15% off and get the PAC-MAN™ Impossification Set as a bonus!