November 16, 2017 – CraigB

GP Team
Star Wars Battlefront 2 - Everything you need to know
Save the galaxy, or conquer it with the upcoming shooter sequel Star Wars Battlefront 2 which arrives later tonight. Get up to speed with our recap guide on the game.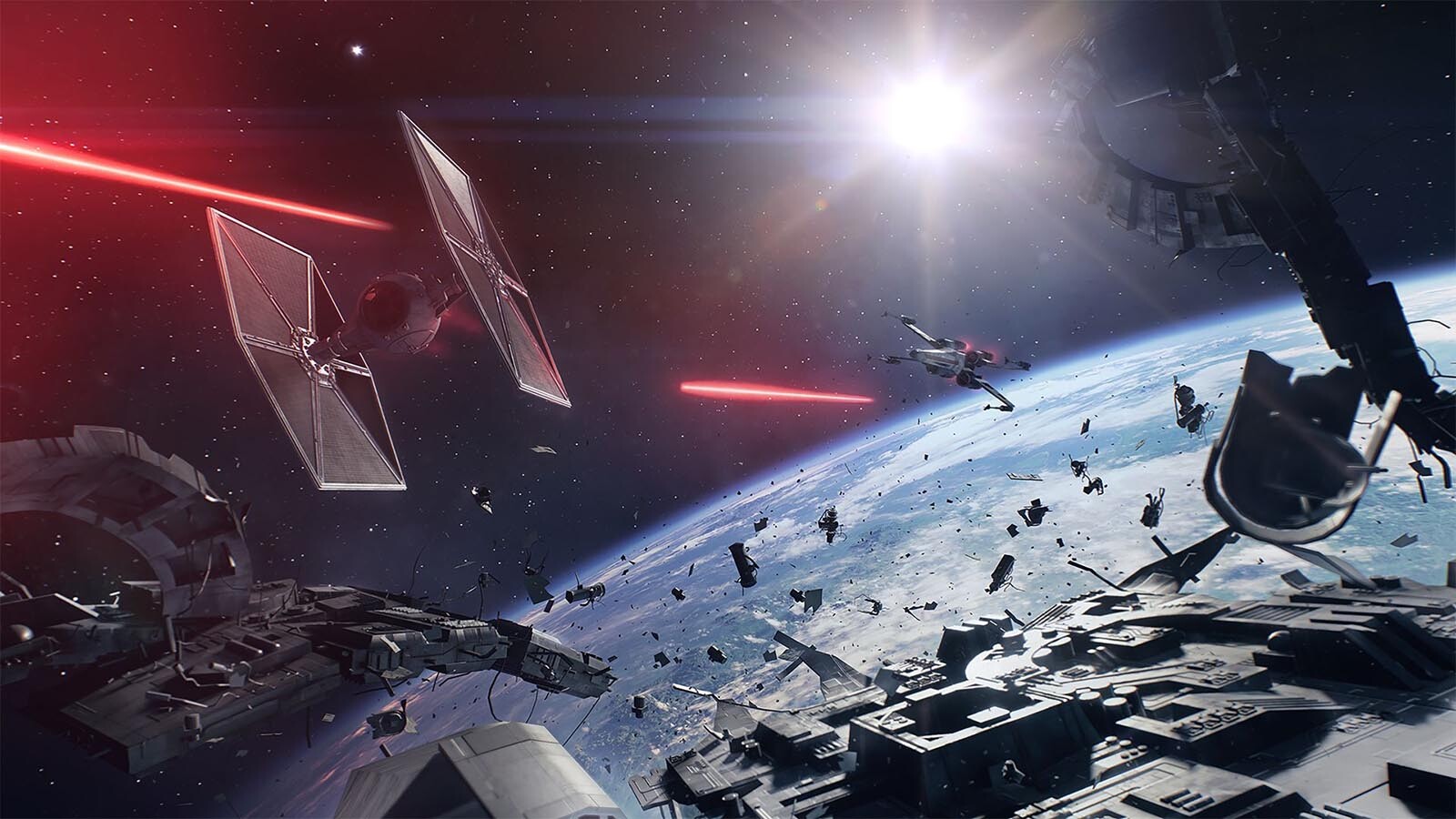 What is Star Wars Battlefront 2?
Star Wars Battlefront 2 is the sequel to the 2015 version of Sci-Fi Action Shooter Star Wars Battlefront. The second game takes things up a gear as it offers a full story campaign that will see you play as Imperial Commander Iden Versio as she does her best to fight against the Rebel Alliance who destroyed the second Death Star. With a story taking place between the events of Star Wars Return of the Jedi and Star Wars The Force Awakens, plus additional free content planned to expand things further. Moving on there are a numner of Multiplayer modes to look forward to, from the 20v20 battles in Galactic Assault to the fast paced dogfighting action of Starfighter Assault. Plus other modes suited to less players like the 8v8 Strike Mode or 4v4 Heroes vs Villans Mode (which was in the original game and sees two teams battle it out with iconic heroes). If you're wanting to make your own set of rules, the game also offers up Custom Battles and Arcade, where you can pick the levels, points and time limits.
The game also offers up a range of Challenges for the Single Player which takes place over a number of Eras, from Battles in Theed Palace as Darth Maul to defending Yavin IV as Luke Skywalker. Star Wars Battlefront 2 features a number of iconic locations, heroes and vehicles from all eras of Star Wars, including upcoming content from Star Wars The Last Jedi which is due in December.
Multiplayer offers up 4 unique classes to pick from, each with their own abilities and weapons. You can get up close and tank things with the Heavy, shoot enemies in the distance with the Specialist, command your squad with the Offier or stand on the front lines with the Assault class. As you progress in battle you will also get access to new classes, including famous Heroes in the Star Wars universe like Darth Maul, Rey, Kylo Ren, Darth Vader, Yoda and many more.
Star Wars Battlefront 2 also has an upgrade system which will require Star Cards, these can be upgraded as you progress/level up and you can craft/unlock new ones with either crates or by earning currency from battles. There will be 18 locations, 14 heroes and 39 vehicles to find in the game, which is a huge leap from the content that was included in the original. Should you want to find out more about the various modes, locations and vehicles there is a video which is narrated by The Force Awakens' John Boyega.
Star Wars Battlefront 2 Trailer Recap
Feel The Force with our trailer recap on the game to help get you up to speed on the various modes, heroes, locations, ships and more that you'll find in a galaxy far, far away.
Launch Times and Preload Info for Star Wars Battlefront 2
Fans can look forward to Star Wars Battlefront 2 later tonight as it launches at 11pm GMT / 12am CET (November 17th). You can get your key directly after purchase from Gamesplanet and start preloading the game while you wait for the launch, expect the game to take up at least 60 gigs of HDD space.
Star Wars Battlefront 2 PC System Requirements
Looking to get the game but not sure if your system is able to handle it? Worry not as we have both the Minimum and Recommended requirements listed below. Those on a lower end PC should be fine to run the game, but you will require at least a 64 bit version of Windows 7. Getting the most out of the game will require a more recent setup with at least 16 gigs of RAM, Windows 10 64bit, an Intel Core i7 6700 or equivalent as well as a newer graphics card such as the Nvidia GTX 1060 3GB or AMD RX 480 4GB.
Minimum Requirements:
OS: 64-bit Windows 7 SP1/Windows 8.1/Windows 10
Processor (AMD): AMD FX 6350
Processor (Intel): Intel Core i5 6600K
Memory: 8GB RAM
Graphics card (AMD): AMD Radeon™ HD 7850 2GB
Graphics card (NVIDIA): NVIDIA GeForce® GTX 660 2GB
DirectX: 11 Compatible video card or equivalent
Online Connection Requirements: 512 KBPS or faster Internet connection
Hard-drive space: 60GB
Recommended Requirements:
OS: 64-bit Windows 10 or later
Processor: AMD FX 8350 Wraith or Intel Core i7 6700 or equivalent
Memory: 16GB RAM
Graphics card AMD Radeon™ RX 480 4GB or NVIDIA GeForce® GTX 1060 3GB
DirectX: 11.1 Compatible video card or equivalent
Online Connection Requirements: 512 KBPS or faster Internet connection
Hard-drive space: 60GB
As always we suggest getting the latest drivers from Nvidia / AMD to make sure you get the best possible experience with the game.
Star Wars Battlefront 2 - The Last Jedi Bonus DLC
All orders of Star Wars Battlefront 2 from Gamesplanet will also include Star Wars The Last Jedi DLC, which includes themed looks for Rey and Kylo Ren based on the upcoming movie. You wil also get epic ability modifiers for each character that allow your heroes to be even stronger with The Force. in battle.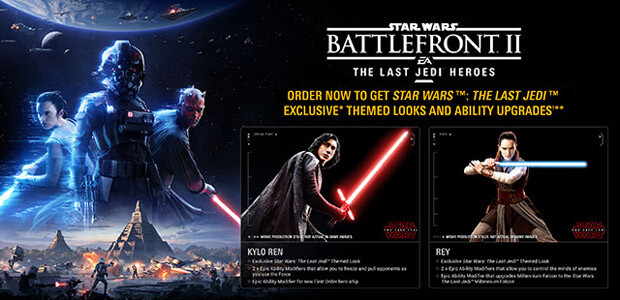 Exclusive Star Wars™: The Last Jedi™ themed looks for Kylo Ren and Rey
Epic ability modifiers granting you the power to change the course of battle.
Keys are available after purchase, so you can get the game and DLC right now!
Problems with Star Wars Battlefront 2? We're here to help!
Getting a new game is an awesome experience and we want to make that as trouble free as possible, so we've put together a guide of common troubleshooting problems and FAQ's to help you out with Star Wars Battlefront 2. You can find our Help Topic here.