The Division 2 - Early Hands-on Impressions ahead of the Closed Beta
Patience and JP, two of our dedicated Gamesplanet team servants and Division 1 players went to Paris last Friday (February 1st) to attend a presentation of The Division 2, which not only revealed some new info about the game, but also allowed them to play it for almost 1 hour. They were threatened by the rest of us to share all they've seen and below you'll find their impressions.
As a bonus, know that we think first and foremost of our gamer friends, therefore we have listed many questions that Division gamers asked around different forums and Julian Gerighty (creative director of the game) has given us a one-on-one interview that you can read in this dedicated article.
If you also want to play the game before the release and make your own opinion, you can pre-order the game on Gamesplanet.com to receive your closed BETA key. You can pre-load the BETA on February 6 and be ready to play on February 7.
The TOP SECRET Intel gathered during the presentation
It was Julian Gerighty himself, the creative director of the game (who also worked on games like The Crew, Splinter Cell: Chaos Theory and Splinter Cell: Pandora Tomorrow) who revealed new information about the game during the event.
The game features a REAL Open World, a 40-hour, content-rich campaign, a Dark Zone PvP redesigned with player feedback, "endgame" content and 1 year of totally free updates and stuff to delight players. In terms of new content, we were told that raids will be offered as well as 3 new episodes, 3 additional specialization branches, new maps, missions, modes, awards and equipment...
In terms of the environment, The Division 1 proposed that you upgrade your HQ, which was nothing more than a simple base of operations. In The Division 2, the story takes place in Washington, the capital of the United States, where your HQ will be the White House that you will have to improve and develop by bringing together the tools, technologies and resources coveted by each of the 3 factions of the game. You will tell us what you think when you play BETA but it immediately reminded us of The Walking Dead and the attempts to rebuild micro-societies in a post-apocalyptic world.
The game map will be 20% larger than The Division 1's and in addition, it will be faithfully recreated. The creative director revealed that he used the real GPS data from Washington to create the map. We thought it would be really fun for someone who lived in Washington to recognize the streets and find their way around their neighbourhood, or even to find their building in the game! We also learned that the map will be 80% PvE, which should meet the expectations of PvE players who would still hesitate to order The Division 2.
We were also told that there would be not one but three Dark Zones! Each of these three zones will have its own configuration, different buildings and a specific gameplay. There will be areas where PVP is "possible" but not mandatory as well as areas where anything is allowed. To make PVP areas less penalizing, some loot will remain in your inventory even if you are killed by another player. Players will always have this feeling of danger and being hunted down by opposing players without being disgusted that they have become PK after doing all the work in PvE.
We also learned that there will be exclusive rewards by participating in the closed BETA. Players will receive a special skin. For those who will play at the Open BETA there will be a trophy for the backpack and for the "end game mission", a bonus patch will be offered as a gift! That's a lot to show off on the streets of Washington when you run into Beyoncé!
We tested The Division 2 on PC!
The context: we arrive in Paris Saint Lazare and take the direction of Place d'Italie. The Metro is crowded, I already want to put my hands on keyboard and start the game! A pleasant surprise on arrival, Ubisoft welcomes us in an "underground" setting in the true sense of the word. It is a car park with floor-to-ceiling decorations (tires, barriers, vegetable crates and AK-47 "ready to take away"). It was in this warm atmosphere that we threw ourselves on the PC keyboards to play. Because yes...for this Division 2 preview, there were only REAL PCs with keyboards and mice like any REAL FPS that you can respect (which didn't stop me from getting myself killed...).
Tip: If like me your keys are in QWERTY when you start the game, press SHIFT + TAB simultaneously and your game will immediately switch to AZERTY.

First of all, without spoiling yourself too much of the private BETA, which you will have access to if you have pre-ordered the game on Gamesplanet, the game starts solo with a tutorial (surprise!). We find the same interface as for The Division 1 but the first opponents seem more resistant, you have to aim really well to be effective because if you are negligent on accuracy you need more than one charger to kill an enemy. We even found mobs trying to get around us.
Compared to our memories of The Division 1, we also feel that they try more to dispose of us with grenades when we camp a little too much on a position. In short, the game pushes us to move, to take cover, to move constantly and it stimulates the gameplay. I had forgotten what the keybind for the bandages was, which made me die right from the tutorial.... And yes! It's a shame, I went Rambo on the game, but at the same time it made me happy to see that if you rush and go too hard, the game resists such approach.
Once we arrive at our new HQ, the White House, we find the interface of missions and group management that brings us (Patience, your servant, our colleague from Ubi and another player who came to discover the game) into a new instance. The game is getting hard! I remember I was able to outsmart the first bosses of The Division 1 and well I can guarantee you that this has nothing to do with it! Enemies have a much more advanced AI: you get caught on the other side and new enemies sometimes appear from the doors when you believe the fight is won! Hand-to-hand combatants are formidable and you must always keep an eye on your teammates. Finally, we overcame the 1st boss with 2 dead and one last survivor but it was intense and difficult. In short, we had a lot of fun and enjoyed playing during ¾ hours of play! It's your turn this week :)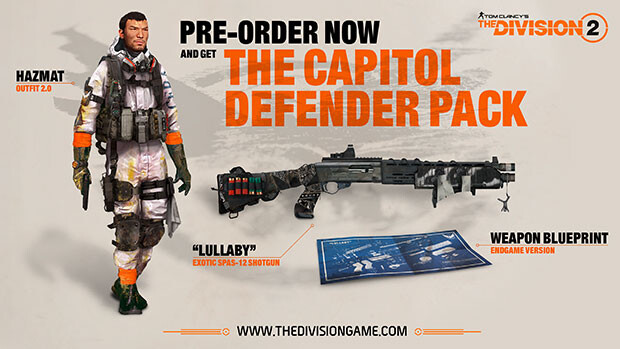 The Division 2 is out on March 12th, and you can start playing the Closed Beta from tomorrow if you've pre-ordered the game.