September 21, 2020 – CraigB

GP Team
Serious Sam 4 gets ready for launch with a new story trailer!
Sam is back with a vengeance as he takes on deadly threats in the upcoming shooter sequel Serious Sam 4 when it launches on September 24th 2020. Take a look at the new story trailer while you wait
It's been almost 9 years since Serious Sam 3 launched on our screens and later this week the next entry prepares to launch on September 24th with the release of Serious Sam 4. Before that however, Devolver Digital and developer Croteam are treating us to a new story trailer for the game, which shows Sam dealing with an invasion on Earth. Can he put a stop to the Mental's hordes and save humanity? Expect plenty of heart pumping moments and big ass guns as he gets serious once again.
As with other games in the series you'll be able to play solo, or team up with friends to take on hordes of enemies with a range of deadly weapons at your fingertips including weapons such as a Rocket Launcher, Shotguns and even a chainsaw launcher that will cut down anything that stands in your way!
Serious Sam 4 Features
HORDES OF INVADERS
The iconic cast of alien invaders returns with some new reinforcements! Fight your way through unbelievable numbers of Mental's minions including the iconic Headless Kamikaze, Beheaded Rocketeer, Kleer, Scrapjack, Werebull, and Khnum! Square off against brand new enemies and towering monsters like the frantic Processed, repulsive Belcher, the hard-hitting Zealot, and more.
EXPLOSIVE ARSENAL
Armed with a slew of devastating weapons, pick your tool for any situation. Lay waste to Mental's Horde using the powerful double-barreled shotgun, the punishing minigun, the powerful chainsaw launcher, a brand new auto shotgun, and the iconic cannon. Upgrade your toys, and enjoy the violent beauty of the lock-on rocket launcher, and the mighty laser beam of death.
COOPERATIVE MAYHEM
Smash through the action-packed campaign with friends in 4-player online co-op mode! Tackle exciting primary missions and thrilling side quests in modified difficulties for an extra challenge.
LEGION SYSTEM
Serious Sam 4 unleashes some of the biggest moments in the series' history with the new Legion System and battlefields teeming with thousands of enemies!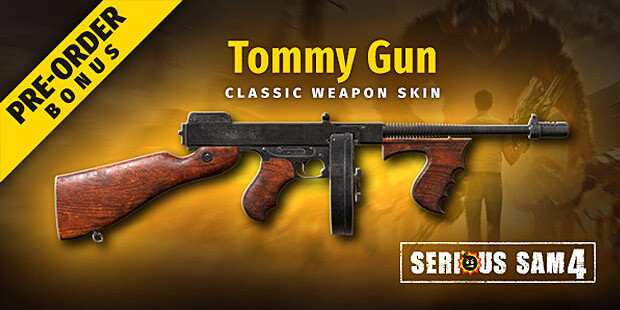 Serious Sam 4 launches on September 24th. Pre-order either version to receive the Tommy Gun Classic Weapon Skin, as well as getting wallet cashback for your purchase.