Description of Human Fall Flat
Buy Human Fall Flat as a Steam key at Gamesplanet.com
Celebrate Lunar New Year in the lobby now!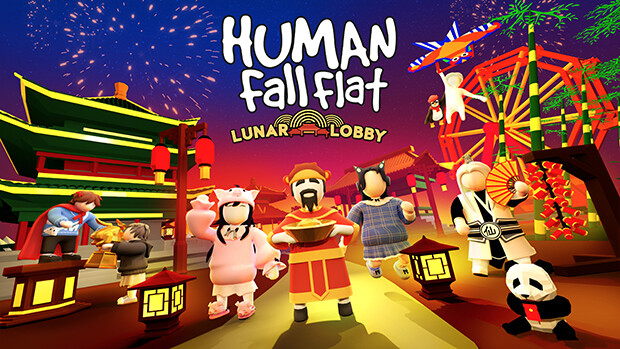 Includes 5 new skins by China's top content creators with over 220 million followers! Lunar New Year celebrations are in full swing across China. Join the fun in a wonderful new feature packed lobby
Explore seven areas inspired by traditional Chinese tales. Unite the 12 zodiac symbols, shake the Fortune Tree to be richly rewarded and ride the Fortune Carp rollercoaster as it transforms into a dragon. Could the sky palace be your final destination?
Jump in with up to seven other friends to see in the Chinese New Year together!
Featuring an amazing track from acclaimed musician, Xu Mengyuan, check out the Lunar Lobby launch trailer now.
---
Bob is just a normal human with no superpowers, but given the right tools he can do a lot. Misuse the tools and he can do even more!
The world of Human: Fall Flat features advanced physics and innovative controls that cater for a wide range of challenges. Bob's dreams of falling are riddled with puzzles to solve and distractions to experiment with for hilarious results. The worlds may be fantastical, but the laws of physics are very real.
Will you try to open that mysterious door, or would you rather see how far you can throw a speaker set out that window?
Human: Fall Flat Features
Direct and complete control of the character. Nothing is scripted and no limits imposed.
Fully interactive environments, grab anything, climb anything, carry anything.
Local co-op mode for you and a friend to tackle the worlds together.
Paint your own custom Bob or even import your face onto his via webcam.
8 beautiful dreamscapes to explore with many puzzles to solve.
Unlimited replay value created by you thinking outside the box.