Description of Planet Zoo Deluxe Edition
Buy Planet Zoo Deluxe Edition as a Steam key at Gamesplanet.com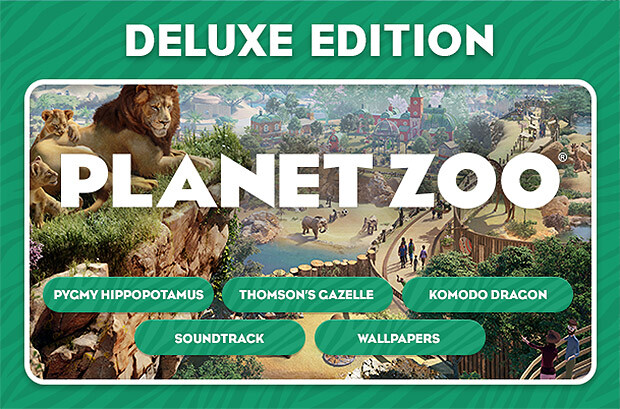 Planet Zoo Deluxe Edition includes the Planet Zoo game plus the following bonus digital content:
3 Distinctive Animals
Pygmy Hippopotamus; is related to the much larger and well known Common Hippopotamus. These delightful and smaller hippos like to live in pairs in the rainforests and swamps of West Africa.
Thomson's Gazelle; beautiful majestic species straight from Africa's Serengeti. Thomson's Gazelles love to live in large groups as they are social animals. They are hunted upon by many predators, but luckily they can run up to speeds of 60mph!
Komodo Dragon; these large lizards have long, flat heads with rounded snouts, scaly skin, bowed legs, and huge, muscular tails and they have a very distinctive walk as their bodies sway side to side. Be sure to care for them cautiously as they are solitary creatures with very specific needs.
Official Soundtrack
You, Me & Other Animals: The Music of Planet Zoo; the original soundtrack includes 18 unique tracks allowing you to enjoy the wonderful music whenever you want.
Set of wallpapers
Beautiful artwork from Planet Zoo, perfect for desktop backgrounds.
---
Build a world for wildlife in Planet Zoo. From the creators of Planet Coaster and Zoo Tycoon comes the ultimate zoo sim, featuring authentic living animals who think, feel and explore the world you create around them. Experience a globe-trotting campaign or let your imagination run wild in the freedom of Sandbox mode. Create unique habitats and vast landscapes, make big decisions and meaningful choices, and nurture your animals as you construct and manage the world's wildest zoos.
SIMULATION RUNS WILD
Meet a world of incredible animals. From playful lion cubs to mighty elephants, every animal in Planet Zoo is a thinking, feeling individual with a distinctive look and personality of their own. Craft detailed habitats to bring your animals' natural environments home, research and manage each species to allow them to thrive, and help your animals raise families to pass their genes onto future generations.
MEANINGFUL MANAGEMENT
Manage an amazing living world that responds to every decision you make. Focus on the big picture or go hands-on and control the smallest details. Thrill visitors with iconic exhibits, develop your zoo with new research, and release new generations of your animals back into the wild. Your choices come alive in a world where animal welfare and conservation comes first.
LIMITLESS CREATIVITY
Planet Zoo's powerful piece-by-piece construction tools let you effortlessly make your zoo unique. Every creative decision you make impacts the lives of your animals and the experience of your visitors. Let your imagination run wild as you dig lakes and rivers, raise hills and mountains, carve paths and caves, and build stunning zoos with a choice of unique themes and hundreds of building components.
SHARE AND INSPIRE
Join a connected community and share the world's most creative habitats, scenery and even whole zoos on the Steam Workshop. See your own designs appear in zoos around the world, or discover fresh new content from the Planet Zoo community every day.