Description of Tom Clancy's The Division Season Pass
Buy Tom Clancy's The Division Season Pass for Ubisoft Connect at Gamesplanet.com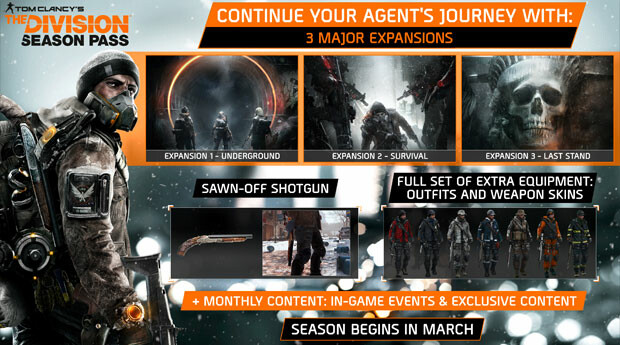 Tom Clancy's The Division Season Pass grants you access to all three major expansions over the course of a year, an array of exclusive gear and day 1 customization options, as well as special benefits each month just for Season Pass owners—all at one great price.
Tom Clancy's The Division Season Pass Features
Expansion I: Underground
Expansion II: Survival
Expansion III: Last Stand
With the Season Pass, your Agent will stand out from the rest. On Day 1, you'll unlock the exclusive Sawed-off Shotgun, a unique salvaged sidearm customized for short-range destruction. You will also receive a set of exclusive outfits and weapon skins. In addition, Season Pass owners gain special monthly benefits, including exclusive content drops and events. More details coming soon!