Spread the cheer and learn how to share titles with our Gift System!
Share the gift of games with friends and enjoy playing titles together! Gift titles from Gamesplanet and spread the joy with your fellow gamers.
Add title(s) to your shopping cart that you wish to give away and pay for the purchase like normal. Then you'll be able to gift your order in a few easy steps!
Important: You will be giving away the entire purchase away as one order. It is not possible to gift individual games from an order to another person. You're also able to give away upcoming titles that have not been released, which will allow you to send a pre-order.
Open your account page on Gamesplanet, choose a game from your library and click the Gift Order button. Confirm your order summary of the game(s) with YES - Create Gift.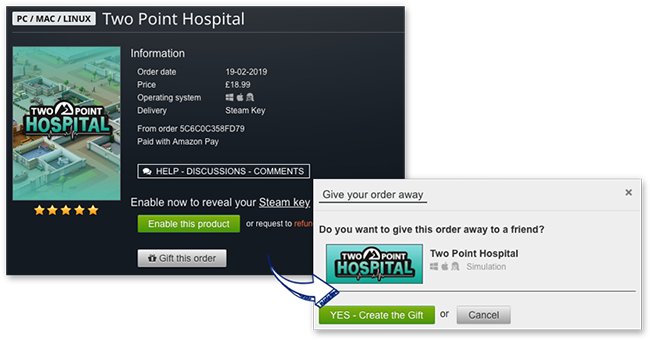 Now you'll be taken to the Gift Page, where you can check the given gift and copy the Gift Link directly. This link can then be shared with a friend with a few easy steps to help them redeem their gift. Send by email, messenger, or even written down as a lovely Birthday message! Though we do not suggest using pigeons or smoke signals as they may not be as reliable and your gift may get eaten.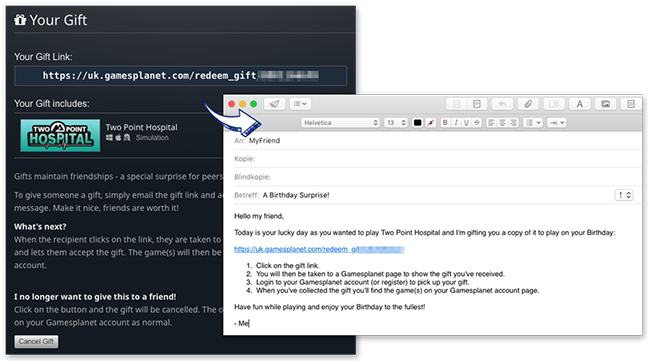 Changed your mind and you want to keep the order for yourself? No problem. You can click on the Cancel Gift button and the order will be sent back to your Gamesplanet account to either Enable or Refund. This is only possible if the gift has not yet been redeemed.