Activation with Origin Direct
Electronic Arts uses its own platform for their PC games. As with Steam and Uplay, you need to download a client (Origin) and create an Origin (or EA) account. Titles that require Origin will be displayed on the product/order page next to "Delivery".
Download the Origin Client
Download the Origin Desktop Client.
Install Origin and log into your existing account or create a new Origin/EA account.
Activating an EA game with Origin Direct
At Gamesplanet you can activate your purchased game directly onto your Origin account so you can access it from your library and download.
After a successful purchase, go directly to the game in your library on Gamesplanet.
Confirm your purchase as usual so that you can access the game.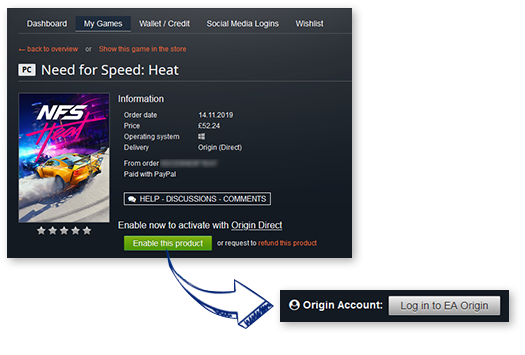 Now you have to login with the Origin/EA account where you want to activate the game. Click on the button "Login with Origin" and login in the next window with your login data (Gamesplanet does not have access to your account at any time). During the activation process, only encrypted data will be transmitted from EA to Gamesplanet - so worry not.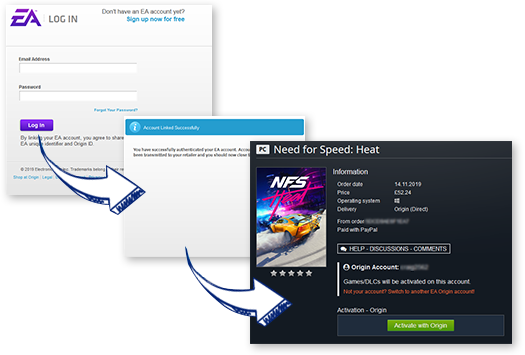 If you have successfully registered with EA, you can now easily activate the purchased game. Click on the "Activate with Origin" button and let the technology do its work in the background. You will then receive a summary of the activation process.
That's it. The game has been added to your Origin account! As usual, you can download and play the game through your Origin client.
Can I gift this to a friend?
Yes you can! At Gamesplanet you can choose to gift your entire order to another account, or claim it on your own account. After purchase you'll be given the option to make your purchase a Gift Link or you can redeem it on your own Origin account. Find out more details about How Gifting Works or reach out to us if you're still not sure.
You can find more information about Origin and how to contact EA customer support at: EA Support
Having Trouble redeeming? Getting Error 3004?
If you're getting issues redeeming your code, make sure that your country matches your location from your EA account page.
Visit the EA Website.
Login with your existing account.
Head to the "About Me" page, then click "Edit" under Regional Settings.
From here you can update your Country/Region. Make sure it matches with your location and hit Save.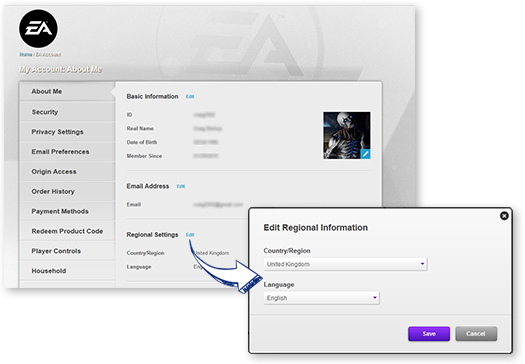 Head back to your Gamesplanet account page and try to activate the game again.
Logging in not possible, because allegedly a registration is necessary?
For some EA accounts, especially older ones that have not been used for a long time, EA may insist on a conversion to an Origin account. When you try to sign in, you will get this message: "Before you can proceed, you need to update your EA account to a new Origin account".
In that case, open the EA Website outside of Gamesplanet separately in your browser and log into your EA account there. In the Preferences tab, you can update your EA account until an Origin ID is associated with your account. Then activate your game from your Gamesplanet library.